I'm so excited to have HOW TO BEHAVE AT A DOG SHOW join the other established dog/pet books out in the world – especially as we gear up for The National Dog Show and then Westminster. This week, I'm taking a look back at some of my favorite dog books. Here are nine you shouldn't miss!
Mister Dog: The Dog Who Belonged to Himself Written by Margaret Wise Brown and illustrated by Garth Williams
I wasn't the world's biggest fan of Good Night, Moon, but Mister Dog? I am waving the foam finger in the air because it is No. 1! There is so much kid-ness in the way this quirky, transporting book was written. The illustrations are lovely (Garth Williams!) as is the ending.
Go, Dog, Go, Written and illustrated by P.D. Eastman
This was one of my husband's favorite kid books, but I didn't discover it until I was an adult. The layout with the dogs up the tree is one of my favorites, and has became my gold standard for picture books: there are so many little things going on and there's something new to be discovered every time you look.
Big Dog and Little Dog, Written and illustrated by Dav Pilkey
A board book for the youngest set, though as an adult reading this to my kiddos, I adored the whole series, especially when they dressed up (see below).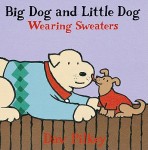 Clifford, the Big Red Dog, Written and illustrated by Norman Bridwell
I was a huge Witch Next Door Fan as a kid, and it took me years to figure out they had both been done by Norman Bridwell (though it's rather obvious when you look at the illustrations). Clifford was the crowd favorite at DC Public Library recently, where we asked kids to vote in a Kid-Lit Dog Show. (How to Behave's Rexie would have had the home court advantage, so he watched this one from outside the ring.)
See Me Dig, Written and illustrated by Paul Meisel
Paul was the illustrator for The Schmutzy Family, so I'm predisposed to love him, but regardless, I'd still be swooning over this book. The text is for the earliest readers but the illustrations are for everybody. I especially like the expressions on the dogs' faces. (And, in the below spread, the bears's, fox's and beaver's.)
The Phantom Tollbooth, Written by Norton Juster, Illustrated by Jules Feiffer
I hadn't really thought of this as a dog book until the librarian included him in the afore-mentioned dog show, but is there any dog as brave and lovable as Tock? Plus, I can't resist the urge to work The Phantom Tollbooth into every list and conversation.
Itty Bitty, Written and Illustrated by Cece Bell
A small (itty bitty) dog is looking for a home and finds one in the unlikeliest of places. Kids love little things, and Itty Bitty is the littlest of all. I still aspire to decorate my home with Itty Bitty's style and panache.
Because of Winn Dixie, Written by Kate DiCamillo
Throwing in another for slightly older kids. This was one of the first books my son asked me to read, after his teacher read it to his second grade class. How could I say no? The characters are so real, and so, of course, is the dog.
Harry The Dirty Dog, Written by Gene Zion, illustrated by Margaret Bloy Graham
This is a classic book for a reason. If it's been too long since you've read it, you can find it here online read by Betty White. As a big fan of schmutz, I hope this book encourages kids to go outside and get dirty.
Please leave some of your own favorites in the comments!