If the windows are open on the last weekend in May, we wake to the sound of motorcycles. My husband makes coffee. The kids grab granola bars. And we all head over to the bridge overlooking I-66. Everyone from the neighborhood is there or on the way. Little kids are lifted high to peep through the fence. There's often a flag hanging above them, but many neighbors bring their own. Below us, the motorcycles honk and wave. We wave back. It is like this on the other bridges in Arlington, too. No matter our jobs or our politics, everyone is side by side cheering for the veterans and the other riders who honor them as a part of Rolling Thunder.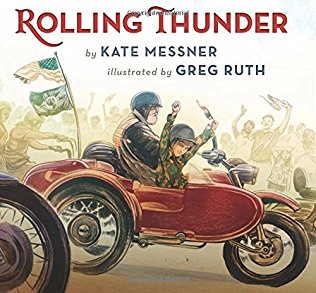 It never occurred to me that Rolling Thunder would make a perfect picture book. Fortunately, it occurred to Kate Messner, whose new book by the same name chronicles the ride of a little boy and his grandfather. Beautifully illustrated by Greg Ruth, the story follows a grandfather on his motorcycle and a little boy on a train. They meet up at their camp site where the boy falls asleep to whispered memories and wakes early to ride in his grandfather's side car.
The story is told in rhyme. My favorite lines are these, when they stop at the Vietnam Memorial:
Leave a single flower. Kneel.
Names in charcoal. Cry. And Heal.
The theme throughout is one of remembering, something Rolling Thunder reminds us to do, even as swimming pools open their gates and we hear ads for Memorial Day sales on linens and bath towels.
Kate Messner was visiting D.C. with her family one Memorial Day many years ago when she saw Rolling Thunder for the first time.
"I'd made the trip to do research at the Smithsonian for one of my mysteries, and we decided to make a family weekend of it," she recalled. "We didn't know about Rolling Thunder before we saw (and heard!) the demonstration thundering down the street as we walked toward the monuments. Someone filled us in, and then we just stood on the curb, watching and waving and saying thank you until the last motorcycle passed by. My kids were little then, and I remember my husband lifting my daughter up so she could high five one of the riders. It's a moment that stayed with me, and several years later, I had the idea for how to tell the story in a picture book."
Did she always know the book would be in rhyme? "This was one of those stories that took a long time germinating," Kate said. "After feeling the rumble of all those motorcycles in my chest and seeing the veterans honoring their fallen friends at the Vietnam Veterans Memorial Wall, I knew I wanted to write about that some day, but I didn't know how at the time. I scribbled the idea in my writer's notebook, and it was years later, in my tiny hotel room at the Kindling Words retreat in Vermont, that I decided it was time to try writing it in the voice of a boy going to the Rolling Thunder demonstration with his grandfather. I'd never planned to write this as a rhyming picture book (or to write any writing picture book, in fact) but the first thing that came out when I started typing was 'Rolling Thunder, freedom ride. This year, I'm at Grandpa's side.' And so there it was."
And here it is. The book was released April 25 by Scholastic. The illustrations by Ruth have a misty, nostalgic feel, befitting a book about remembering. Kate said she'd used few illustration notes when she submitted the manuscript. "I left most of the imagining to Greg, though as always with a book like this, there were little details that we talked about later, like making sure the POW-MIA flag was represented along with the American flag."
The book is dedicated to veterans, including Kate's father, who served in the Navy during the Korean War. "Remembrance is important to him, so I knew he'd love this book," she said.
Ruth's dedication is also to veterans — "and to the people who hold them in their hearts until they return."
A donation from the book's proceeds has been made to Rolling Thunder. For more information about Kate Messner, visit Katemessner.com. For more on Greg Ruth, visit him at gregthings.com. And for more about Rolling Thunder, visit http://www.rollingthunder1.com.
Save
Save
Save