Friends. I have to limit my school visits this year so I'm hoping to connect with students in my off hours. That's why I'm hoping teachers will have their classes engage with me about Cyclops of Central Park, a book written about a number of things, including my anxiety. Now that Cyclops is out of his cave, what's he going to see?
Cyclops is afraid of grass and restaurants that don't serve spaghetti. What do your students think he might worry about at first in your town, but eventually love? What will Eugene, who doesn't seem to be afraid of anything, love right from the start?
Send a photo of the book in your state and let me know your kids' thoughts on the above. Parents: are your kids out of school this week? Have them write me, too! I'll write back and let them know some other places Cyclops and Eugene have been. And if they have other questions about writing, I'm glad to answer those, too.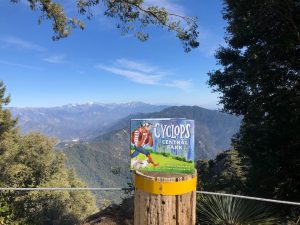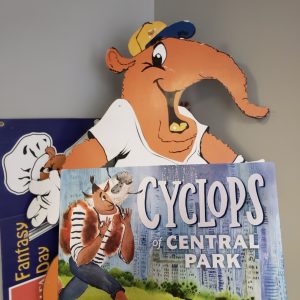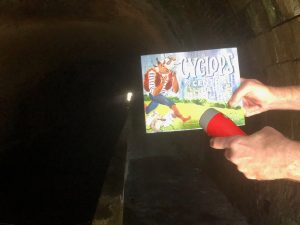 Thanks for your help with this project. I miss being in front of kiddos as often as I used to be, so I'm looking forward to being in your classroom this year, even if it isn't always live and in person.
In the photos on this page: Librarian Tony Carmack took Cyclops to see the Angeles National Forest. Wendy Shang took him to see the Biscuits Baseball Team in Alabama. And Mia Musolino took him to see a cave and the Paw Paw tunnel in almost-West Virginia.
Repeats are totally allowed (there's so much of each state to see!) but for the record, we've hit these states so far:
Alabama  Arizona  California Georgia Florida Illinois Kansas Louisiana Maryland Minnesota Nevada New Jersey New York Nevada North Carolina Ohio Oklahoma Pennsylvania Virginia South Carolina Texas Wisconsin