For parents who are out there looking for things for their kiddos to do while they're out of school: Here's a link to 11 of my summer writing prompts. You may have to switch the season and the circumstances, but you can still look at the world around you and write about it — and if you're self-quarantining, remember writing can make the world a little larger. My plan is to go into these and try to adjust them as the days go on. I'll keep adding some more recent writing prompts below:
Meet Your Character: A writing and drawing prompt.
COVID-19: Let's write about now.
Writing out your fears: a poetry prompt.
And while we're at it, Here's a learn-to-draw exercise from Victoria Tentler-Krylov. Victoria's post is in Instagram, so kiddos, ask an adult in your life before accessing;
And a Cyclops bookmark tutorial == my first craft video, with a little help from my feline coworker.
The prompt I've been asking kids to do lately is centered around Cyclops of Central Park, my book that came out in February. In the book, Cyclops is afraid of pretty much everything, including restaurants that don't serve spaghetti. But Eugene, a sheep, is just the opposite. I'd love for kids to tell me what Cyclops and Eugene would be doing in their town. What would scare Cyclops at first? What would he come to love? What would Eugene try to convince Cyclops to do? How would you make Cyclops feel better bout the world? And what would he and Eugene EAT?
I love seeing pictures of Cyclops and Eugene out of the cave! I'm trying to get them to all 50 states, but even if you tell me about a state they've already seen, I'll write back!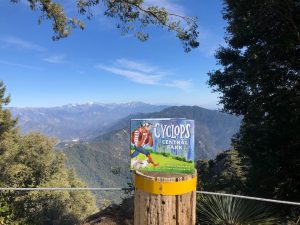 Be well — and wash your hands!
XO
Madelyn
Pics by Tony Carmack (California)  Barry Bowden (Marietta, Ga) and Tamar Stein (Singapore orchid garden)