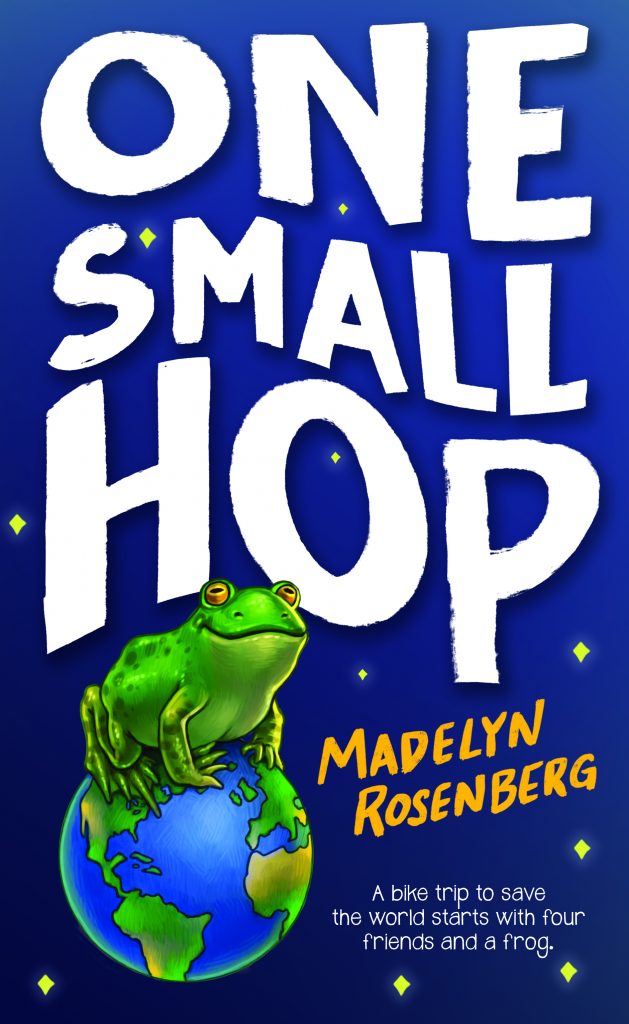 Signed preorders: https://www.onemorepagebooks.com/one-small-hop
MR: Prior to ONE SMALL HOP (Scholastic, May 2021), I was steeped in the 1980s for two books with writing partner Wendy Shang. ONE SMALL HOP is set in the future, but I haven't shaken the 80s, which might be why Billy Idol's Dancing with Myself has been stuck in my brain for the last two days. That made me think: How about Interviewing with Myself? It doesn't quite work as a song (too many syllables/the meter is wrong) but I need to reveal the cover for my upcoming book somehow, and that would be a good way to do it, right?
Self: Solid!
MR: Solid! So, OK, let's start with that vibrant cover. What can you tell us about it?
Self: That I absolutely love it. And that when I first saw it, it reminded me a smidge of The Hitchhiker's Guide to the Galaxy (space + world + brilliant green), which made me love it even more. The art is by Joyceline Furniss and the designer was Baily Crawford, who also designed the cover for Not Your All-American Girl. Alph (the frog) has a Mona Lisa smile, don't you think? He obviously knows something we don't.
MR: Talk a bit about the story.
Self: Ahab wants to save the world. But his parents are pretending that the climate isn't changing and his sister cares more about her Friday night date than the fact that the ocean has been declared off limits. Fortunately, Ahab has friends. And a bicycle. And he has Alph. (More details about this middle-grade novel at the end of this post.)
MR: You've been working on this book for a long time now, right?
Self: So long. And I've had the concept even longer. When we first moved into our house in Arlington 14 years ago, we discovered that the small pond in back had bullfrogs, and I decided I'd write a story about them one day. I've made it a point to include frogs in stories in the intervening years, but I'm pretty sure it's been building up to this.
MR: This book is considered science fiction. What made you decide to go there?
Self: Every time I do a school visit, a kid asks me: What's your favorite genre? My answer is Fantasy and Science Fiction. But I tend to write realistically. Weirdly, I even consider my first novel, about a talking canary, to be "realistic fiction," though I know that's not quite the case. This time around, I felt that to talk about the things I wanted to talk about, the world had to be ahead of where we are now; to think about the future, I had to go there.
MR: You wrote some novels by yourself, but your last two novels have been with writing partner Wendy Shang and before that, you wrote a book with Mary Crockett. How did it feel to write a novel alone again?
Self: I talked to myself an awful lot.
MR: How did the pandemic underscore the writing of this book?
Self: This book was completed before the pandemic – we were going over copyedits at that point, I think. But the pandemic shows us all how the world can change in a minute. I mean, the world is constantly changing but most of the time, we're not really hyper aware. Writers put those bits into their stories constantly – we're keen observers, after all — and maybe later, we look back and say "Oh, remember that detail? That was so 2018! Remember when we thought this or when the political landscape was that? Remember when scooters were everywhere or when they invented the Segway? Remember when we ate fudge pops? Remember when we dabbed?" But in this case, everything changed drastically, over the course of a weekend, really. Suddenly, there we were, sewing masks with fabric and shoelaces, businesses shut down, the streets and highways empty. I think that makes science fiction and fantasy more real – more realistic – for everyone.
MR: Preorders help a book have legs, yes?
Self: Yes! If you want a signed copy, please order through One More Page. They ship!
https://www.onemorepagebooks.com/one-small-hop
You can also order from an indie near you, from all traditional online retailers, and most anywhere books are sold.
(Marketing jingle: Order today! Read it in May!)
MR: And about those other book details that you mentioned?
Self: Right!
When Ahab and his friends find a bullfrog in their town — a real, live bullfrog, possibly the last bullfrog in North America — they have several options:
A. Report it to the Environmental Police Force. Too bad everyone knows the agency is a joke.
B. Leave it alone. They're just a bunch of kids —what if they hurt it by moving it?
C. Find another real, live bullfrog in a secret location. Talk their parents into letting them bike to Canada. Introduce the two frogs. Save all of frogkind.
Ahab convinces the rest of the group that C is their only real option. Because if they don't save this frog, who will? Their quest, which will involve fake ice cream, real frog spawn, and some very close calls, teaches Ahab that hope is always the logical choice and that science is always better with friends.
With humor and empathy, acclaimed author Madelyn Rosenberg builds an all-too-imaginable future ravaged by climate change, where one kid can still lean on his friends and dream up a better tomorrow.
Perfect for fans of Carl Hiaasen's classic Hoot, this humorous adventure story set in a not-so-distant future celebrates the important differences we can make with small, brave acts.
Thanks to the team at Scholastic for making this happen, especially Lisa Sandell and Olivia Valcarce.