Author/illustrator Cece Bell delves into graphic novels for the first time with the days-from-being-published El Deafo.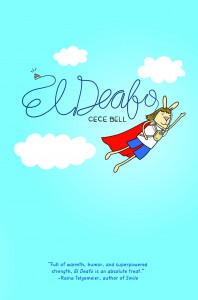 The story, about her hearing loss from meningitis, her gain of a new superpower and her search for a true friend, is my personal pick for a Newbery/ Caldecott/Schneider Family triple crown. Cece's also written and illustrated picture books and an easy reader. And (insert Troy McClure voice here) you may know her from the cover art for one of her husband's Origami Yoda books or the logo she designed for the Eastmont Tomato Festival in Elliston, Va. Rumor has it that she's working on a short for the next Comic Squad, along with more picture books, and illustrations for a new series with the aforementioned husband. She is at once wise and pee-in-your-pants funny, and I am thrilled to have her here to talk about genre jumping and the painstaking work she did on El Deafo. I am glad she's finished for two reasons: First, because readers can now check out this glorious book, and second because she has finally unlocked the door of her studio and I get to SEE her again!
Me: Which came first, chicken or egg, PB, Easy Reader or Graphic Novel?
Cece: Egg came first. Picture book lacking eggs of any sort came next. That PB was Sock Monkey Goes to Hollywood, from Candlewick Press, ELEVEN years ago. Funny thing: when I submitted this book to CP, it was called Sock Monkey Takes a Bath. And now that CP is reprinting it (along with the other two books in the series), guess what? They're changing the name from SM GOES TO HOLLYWOOD to SOCK MONKEY TAKES A BATH. It's true!

Me: What was the first thing you published, art or writing wise? And yes I do mean EVER:
Cece: I think that would have to be a couple of drawings in my high school literary magazine—The Delphi of Salem High School in Salem, VA—circa 1987. One was a stipple portrait of a mother horse with her foal. That's right. Stipple. And horses? I had no real interest in them but our not-very-creative art teacher wanted us always to work from photos and this was the photo I ended up with. I must've been overwhelmed with school in general if a photo of a horse mother with her foal was the best I could do. The other entry to the lit mag was a pencil drawing of Woody Allen. I liked him a lot then, especially his book Without Feathers. Anyway, what's cool is that last year I was the featured "local artist/writer who grew up and done good" in that very same literary magazine. A couple of aspiring writers came over and examined the filth in which I live and interviewed me and wrote some nice things about me. Their giggles and their youth reminded me that time never stops. The whole thing was kinda surreal. But neat!
Me: When did you publish something in a different form?
Cece: If you mean non-book, then that'd probably be some of the packaging/illustrations I did for my first and only real job, a manufacturer of products for exotic pets, like frogs and lizards and fish and birds. (This was back in the mid-nineties.) I had to quit that job for several reasons, chief amongst them the fact that some of these products (on which I was working so hard to make beautiful) were killing frogs. Seriously. And my boss may have been the Devil Incarnate. Or at least the Devil's Crafty Cousin.
Me: And as long as I'm talking about different forms, maybe I should have you mention the different types of drawing/painting you do as well?
Cece: I like to mix it up. Some computer stuff. Some pencil stuff scanned in and then colored in Photoshop. Some acrylic paint with stencils. I'd like to be a better watercolorist, but that ain't ever gonna happen. I recently finished a book in which I used china markers and acrylics on vellum, in a vain attempt to channel the Provensens, who used oil on vellum for some of my favorite books by them (at least I read that somewhere). FAT CHANCE. I'm never gonna be Cece Provensen. Not even Cece Prov.
Me: You do both writing and illustration, so between those two areas, which comes first? Or do they just kind of ooze all over each other?
Cece: Very little oozing at first. Totally writing first. And I work and work and work to get the writing just right before I even start the drawings. I don't even think about whether or not I can actually confidently draw the stuff I've written, which can really blow up in my face from time to time. Of course, when I go to illustrate the writing, what I thought was perfect writing turns out to be extraordinarily imperfect, and that's when the oozing begins. But I do love that process, of figuring out if a picture could tell the story better than the words, and then just editing the words right outta there.
Me: How easy do you find it to switch back and forth between writing for older kids and writing for younger ones?
Cece: Switching around with the writing is not too hard. It's the drawing I have trouble with, because I always tend to draw "younger." It was difficult making that transition from something like Jerry Bee and the kids in Bee-Wigged, to the rabbit-people from El Deafo. Aging up is something I don't do well, both in drawing and in real life.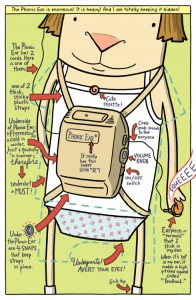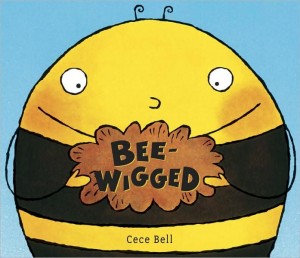 Me: Are there themes you tend to explore repeatedly in writing and illustrating for different age groups?
Cece: Just about everything I write seems to be about friendship. Making friends, placating them, losing them, finding them again. Arguing with them and then making up again. Another theme would be "be nice." And another would be, how can I make this as funny as possible, but still have a little bit of sweetness to it? A PB coming soon, called I Yam a Donkey, however, has absolutely nothing to do with friendship—and zero sweetness. A first! That one is totally for the yuk yuks.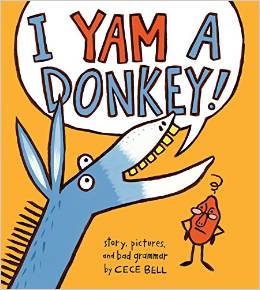 Me: El Deafo marks the oldest group you've written-illustrated for so far. How did that work for you? Would you do it again?
Cece: I think I might, especially since I keep thinking of other stories from that period in my life that I could easily fictionalize and make entertaining. But I can't imagine doing another graphic novel again. It was excrutiating. I don't know how other graphic novelists do more than one. Blood, sweat, tears, pus—you name it, it ALL came out of me while I was working on it. I think I'd like to try a more hybrid approach, like Tom's books or like The Popularity Papers, Wimpy Kid books, that sort of thing.
Me: How would El Deafo have been different as a straight-up middle grade novel? Because I believe you'd contemplated that at one point.
Cece: I don't think it would have been as successful. The speech balloons and the fact that you can put anything—or nothing—in them just totally, totally make sense with hearing loss. And I really do tell a better story when there are pictures to help me along. I don't care much for my own descriptive writing, because it all sounds so forced and rarely rings true. I can make the drawings do a lot of that work. I think that's why I love picture books so much…I can write very brief lines of text that sound pretty good, and let the drawing do everything else. I mean, how much briefer can you get than this: "Jerry Bee loved people." What a line! Bring on the Pulitzer!
Me: Talk a little about your process.
Cece: Wake up early. Spend too much time on one picture. Work and rework a drawing while wishing I had paid more attention to the life drawing classes and less attention to being whimsical all the time. That's the abbreviated version, for sure.
Me: Now that you're a little bit away from it, does it seem as excruciating?
Cece: YES. But it was also a lot of fun from time to time, and I absolutely loved the graphic novel format as a means of storytelling. Loved it. But I just am not what you'd call an amazing artist, and I really struggle with drawing. It's like…I am a storyteller first, and all my illustrations are simply a way to tell the story. NOT a way for the reader to say, WOW, that kid can DRAW. That's reserved for all the illustrators who just rock it. You know who they are! I'd list them here but my fear of leaving someone out is greater than my need to write a list of all the great illustrators working today.
[Editor's note: I get what you're saying, but you rock it, too, Cece. You very clearly rock it.]
Me: Is there a genre you'd like to try that you haven't tried yet? Or a type of medium?
Cece: I think I'm in a good place with the genres I've tried. I definitely don't see YA in my future. I was never a good "young adult"—due to my hearing loss, I think I instantly became more an adult in a child's body, and then later, as I got more comfortable with things, I switched to being a child in an adult's body. (That sounds so lame, so twee, but I can't think of a better way to say it.) I guess what I'm trying to say is that I don't think I could pull off YA because I don't know now and didn't know then a thing about young adults. And if I wrote an "Old Adult" book (because surely that's what they need to be called, ha ha), I'm pretty sure it'd probably just tank. The review would say, "Bell's descriptive writing sounds so forced and rarely rings true. One star."
As for mediums, I'd love to try more screenprinting, and more lino block stuff, too.
Me: Thanks for stopping by, Cece. Your interviews are never forced and always ring true. I will let you go get back to work.
Cece: Thanks for the interesting questions, Madge! Good times.
You can learn more about Cece at her web site, www.cecebell.com. She's also on twitter at @cecebellbooks. And if you google her, you will find lots of groovy things, including recent reviews in the NYT and SLJ and more. My previous interviews with Cece can be found here and here. And locals should know that she's going to be in Northern Virginia in late September: At the library in DC on Sept. 23, and at One More Page on the 24th at 4.