It has been nearly four (4) years since I interviewed the amazing Cece Bell for this blog, which means it is high time I talked to her again. Cece, as loyal readers may recall, is an author/illustrator who got her start designing containers for fish food and other aquarium products before the world recognized her true genius and published her children's books. Sock Monkey, Food Friends, Jerry Bee and Itty Bitty are all Cece Bell creations, and I am, in the words of Miles Finch, psyched out of my mind about her newest book, an easy reader called Rabbit and Robot: The Sleepover (Candlewick). Released this month, the story follows Rabbit and Robot as they try to navigate the complexities of spending the night in harmony, when each of them has a very different agenda.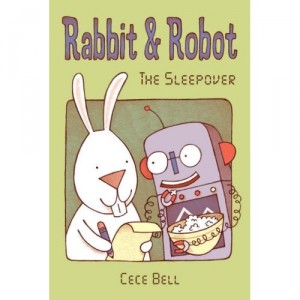 Me: This is your first easy reader. What made you want to tackle that format? Are you upping your age group as your own kids age?
Cece: My editor at Candlewick Press actually encouraged me to write an easy reader. She felt like it would be a good format – maybe even a better format than a picture book – for me. I don't think having my kids age has made any difference in what I'm writing or illustrating at the moment. Hopefully I'll still be doing easy readers and picture books when they are grown, too. I'd better be. Come and kick me if I'm not.
Me:What was the inspiration for this book?                                                   
Cece:Well, I knew I wanted 2 characters. I knew I wanted something like Arnold Lobel's Frog and Toad series. I went with "Rabbit" and "Robot" because I liked how similar their names sounded in comparison to what a rabbit and a robot actually are. And as I wrote, I realized I was actually writing about my frustrations with myself and my son, in that we are both a lot like the slightly OCD Rabbit, who can be quite rigid about things when they don't go his way. Since becoming a parent, I have mellowed a lot, and have (hopefully) become a lot more like the more easy-going Robot, who tries to be flexible in all situations. I think I might have been writing a before-and-after version of myself, without really knowing that until it was all done.                                                                                                
Me: How did you illustrate this one? What was your medium? (Illustratively speaking — not paranormally.)                                                                                 
Cece:I drew and shaded the pictures in pencil, and scanned those drawings into the computer. Then I used the Wonders of Photoshop to add colors underneath the shadings, as well as to color the shadings themselves. I was totally going for a Lobel look. The lazy man's Lobel look, that is.
Me: Did the easy-reader format feel that different from the picture books you're working on?
Cece: Not really. Except I had to pay more attention to the sizes and placement of the pictures. And I tried to be a bit more subtle with the repetitions in the writing.
Me: What can you tell me about your first sleepover?
Cece: The first one I can remember didn't last through the night. I was spending the night with my best friend Emma, who lived across the street. We were both 4, almost 5. Emma was supposed to be sleeping in her bed, and I was supposed to be sleeping on a little sofa type thing that was close to Emma's bed. But Emma kept getting up to check on me. Over and over and over again. I was so dang tired and I wanted Emma to stay in her bed and go to sleep so that I could go to sleep, too. But she didn't, so I woke up Emma's mom, who then walked with me across the street and back to my house. We were both in our pajamas and I was very impressed that Mrs. Collins would do such a thing.
Me: I know at the same time you were doing this, you were working on Bug Patrol, a book you did not write, with an author you have not met. Tell us a little about how you drew/painted that one, and also about how it was different illustrating for someone else.
Cece: I did the illustrations for this one the same way I did the ones for Bee-Wigged. I made a lot of stencils, and used el cheapo acrylic paints (like the ones in those little containers you can get at Michaels) and stencil brushes and toothbrushes to make cool colors and textures. And then I outlined the heck out of everything with black ink. Labor-intensive, but – wowza! My standards went up when I created these illustrations, because they were for somebody else, for somebody else's story. I didn't want Denise Mortensen to see the pictures and be outraged at the results. It felt like I was working on a present for somebody. "Don't screw this up!" was my constant mantra.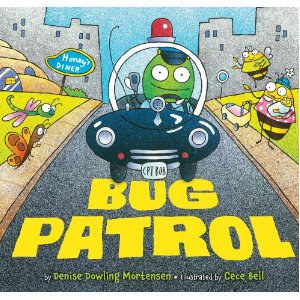 Me: And meanwhile, you've also been working on a book with your husband, Tom (for readers: Tom Angleberger, middle-grade author of the Origami Yoda series, Fake Mustache, and more). Compare and contrast, as your English teacher would say.
Cece: Oh, that's Crankee Doodle. We had a lot of fun with that one. It was one of those great moments when we were equally excited about an idea that we shared, and equally invested in it. But I decided early on to keep him mostly out of the illustration process. Once you sell a book, it really does become the publisher's property, and I think it's better at this point to heed your editors' advice and keep the writer out of it, even though it was initially the writer's baby. (I don't think the writers reading this will be happy to hear me say that; forgive me.) But: Too many cooks. Death by committee. That sort of thing. I did show Tom the early sketches for the book, and since he loved 'em, it was easy to continue the process with just the editors. And fortunately, he is very happy with the end results, too.
Me: No matter how writers may feel, there's a definite reason we're not illustrating our own books. Here is mine: 
Me again: And speaking of Tom — I hear you also created the Fortune Wookiee that's on the cover of his latest book.
Cece: That was fun, too! Amulet was coming down to the minute on having some kind of fortune Wookiee for the cover. Tom was desperate. I volunteered to make one, partly because I secretly wanted to bask in the glory that is Tom, too. Tom loved what I made. Took pictures and sent to Amulet. Amulet accepted the Wookiee. Rejoicing all around.
Me: So now that we've talked about everything you've been working on recently: I know a couple of years ago you felt like you were in a bit of a slump. Do you feel like talking about that?
Cece: Urgh. I was struggling. I couldn't sell a book. "Too weird." "Not commercial enough." "Etc." And I was dealing with a lot of parenting issues that pretty much exhausted my resources. I was haunted by questions like, should I put it all aside and focus on being a mother 24-7? Am I a bad mother for really, really being tired of being a mother and just wanting to get a book published so I can stop being a mother for two seconds? It bugged me deeply that I sometimes felt like being a writer and illustrator was more important to me than being a mother. And I LOVE my kids. Goodness gracious, love them. So I did focus on being a mother during that time, and that was a time where it was actually really necessary for me to do so. But I was still wanting to get back to it and get something GOING, for crying out loud! But I just couldn't get started again.
Me: So how did you get out of it? (Because you are very obviously out of it.)
Cece: I got out of it when I read something that the artist Sarah Petruziello had written on her blog, about the fact that she makes sure to draw for at least ONE hour a day – and even if it was just one hour, at least she had still done something – anything – for her artwork for that day. And you can get a lot done in that one hour. So I thought, "I'll try that." And I gave myself an assignment. I filled one cup with slips of paper with animals written on them. I filled another cup with slips of paper with adjectives written on them. Each day, for a hundred and some days, I pulled an animal and an adjective out of each cup, and I had to create an illustration for what came up. I gave myself an hour to do each one, and posted each one on Facebook (you can see all of them on my blog). And that, ladies and gentlemen, is what got me out of my slump! I started figuring out where to find bits of extra time, so that I could work and feel good about the time I was giving to my kids and to my husband and to my basic hygiene, and bit by bit, I was able to wake up my brain and start working on other projects as well as these one-hour drawings. I stopped doing the drawings when I finally sold another book. It was glorious. And I didn't feel like a bad mother. I felt like a happier mother.
Me: To find Cece's illustrations, go to animal illustrations and pan down to July of last year. Or, if you're a little lazy, you can just admire this illustration, of a peripatetic warthog.
Me: What characters came out of your series?
Cece: None that I've used. But I may go back through them and see what I can come up with later.
Me: I've always been blown away by your discipline, even when you were in your slump. I'll set arbitrary limits for myself: I must write at least 1,000 words today/7 pages/etc., but you can seemingly go for hours and hours. When I saw you a few weeks ago, you said you were doing SIX HOURS of drawing a day, on your graphic novel?
Cece: That's right. I aim for six hours every day. Even weekends. But it doesn't always work out that way, and I don't beat myself up when it doesn't work out that way.
Me: Since we've been talking about time: where do you find it?
Cece: I get up early, before anyone else gets up, and work then. That's two hours. When the kids are in school, that's another four or five hours. (Summer is a lot more complicated, but do-able, because Tom works at home, too, and is around a lot.) I try not to work at night. I am too tired, and that's time for supper, homework, and British teevee. And that's 6 or so hours of work. No office chit-chat, office cooler romance, etc., because I am in my studio by myself.
Me: How do you find balance?
Cece: Ha ha ha ha ha. Hic. That would be with the Booze Float: Chocolate ice cream, crushed ice, Dr Pepper, and hooch.
Me: I know between Tom's deadlines and yours, you guys have a lot to juggle; how do you decide who gets time to work and when?
Cece: For a while, when the kids were going to two different schools at two different times, we had a rota. That helped a lot. Now they're at the same school. And Tom is able to work at odd hours and in different places. I tend to stick to more of a schedule and to my studio, and Tom respects that a lot. We just pass the buck back and forth and it all usually falls into place.
Me: So what's next for you?
Cece: I'm working on a graphic novel for Amulet/Abrams. I am very excited about it. It is easily the hardest and biggest project I have ever done. But it's worth it, because in this case, I think the graphic novel format is the best format for this particular story.
Me: (Nods vehemently.) And I usually end by asking people about their secret talents. What's yours?
Cece: I can lip-read lovers' arguments across a crowded restaurant! And fall asleep as soon as my head hits my sweet pillow.
Me: Fine talents indeed! For more about Virginia author/illustrator Cece Bell, visit her website at www.cecebell.com. You can also check out this great interview with Kathy Erskine, or see Cece and her trio of Super Dogs right here. You can see the first interview I did with her right here. Or you can run, don't walk, to the book store, and purchase Rabbit and Robot, Bee-wigged, Itty Bitty, Food Friends, or any of her books starring Sock Monkey (as himself).