After years of watching from the sidelines, the kids and I finally put together an entry for the Washington Post's annual Peeps Diorama Competition. Have you SEEN what people come up with for this thing? Half of the dioramas seem to be outfitted with electricity. And the detail! I can do detail when it comes to words, but I kind of lose it when it comes to marshmallow fluff. As our chances of making it into the Post's gallery are slim, I figured I'd post a couple of pictures here. I'm pretty proud of what we came up with, and we had a fun time pulling it together!
My son came up with the title for our diorama after last year's Peeps competition. Our only real rule was that we weren't allowed to go out and buy a bunch of stuff. Except for Peeps. I did splurge on the wallpaper (19 cents a sheet, on sale). Everything else we had around the house. Admittedly, we're luckier than a lot of people doing dioramas because a. we already have a lot of crafts stuff and b. we have Barbies, which means we had shoes for Peepi (though I can't see Barbie ever wearing these, can you? Ken, either, for that matter. They must have belonged to somebody else, though I can't imagine who.)
Presenting : Peepi Longstocking!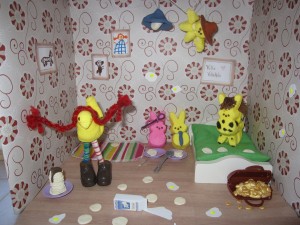 Here's a closeup of Peepi's face: