It's been a while since I've done a musical welcome for a book, but I figured this was the week to get back to that because this is the week Art2-D2's Guide to Folding and Doodling is out.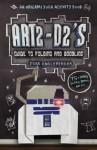 I've been thinking a lot about doodling lately — inspired by Tom Angleberger and by something Heather Ross said recently about drawing a little every day. When Tom and Heather (and R2) are in agreement, I think the cosmos is telling us something.
I'm welcoming Tom's book with Art Class (Song for Yayoi Kusama) by Superchunk. Rocking, if not 100 percent family friendly.