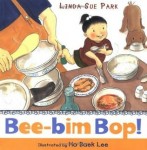 My son came home from the library this week with a copy of Linda Sue Park's Bee-Bim Bop. We used to check it out all of the time when he was little.
"This is a little young for you, don't you think?" I said.
"I know," he told me. "I got it for the recipe."
And so, last night for dinner: Bee Bim Bop. Still trying to master tofu (the recipe called for beef and we made that, too, but wanted the veggie option). All in all: success! I'll definitely make it again. I like that the book suggests serving the toppings in bowls so members of the family can top the rice however they'd like. That way if one kid wants to skip the spinach, she can. If one kid wants to skip the mung beans, she can. For the record, my son ate everything. I wish I'd taken a picture, because it was colorful and attractive. But by the time I thought about it, it was ABCB (already-been-chewed bop) and somehow I don't think you'd want to see that.