I have yet to see Erica Perl in a pair of Clark-Kent glasses, but if she did wear them — and then took them off — there's a distinct possibility that she'd  sprout a leotard and cape. Because Erica is one of those people who makes the rest of us talk behind her back, in that it's-a-bird, it's-a-plane kind of way.
Is she in two places in once?
Does she ever sleep?
How does she do that? And by that we mean: write books. That reach kids. While being a parent. And holding down a full-time job at First Book, where she gets books into the hands of kids who really need them.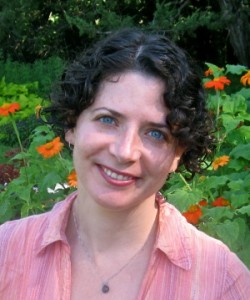 Erica's own books include (among others) Vintage Veronica, Dotty, and Chicken Butt, which had been a family favorite before I ever met her. Another family favorite was When Life Gives You OJ, which tells the tale (or tail) of Zelly Fried, a displaced Jewish girl whose life would be so much better if she had a dog.
In June she published Aces Wild, the sequel to OJ. And she's just days away from another book birthday… but more on that in a minute.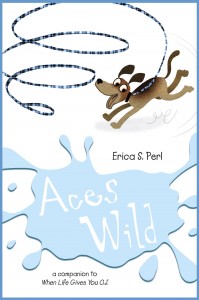 Me: Why do you think it's important, particularly in middle grade, to have characters who just happen to be Jewish.
Erica: I love this question!  Betsy Bird recently did a wrap up of some recent books in which the characters "just happened to be Jewish" (including Aces Wild and Elissa Brent Weissman's excellent The Short Seller).  I hadn't quite realized this was still relatively rare, but it certainly was when I was growing up.  Anastasia Krupnik (of the Lois Lowry series) and Sheila Tubman (of Judy Blume's Fudge books as well as Otherwise Known as Sheila the Great) are the only contemporary Jewish kids I recall meeting in the books of my childhood.  There were a couple of others, like the All of a Kind Family girls, who I loved, but they were strictly historical fiction.
Me: My son's favorite part of the first OJ was when they were singing prayers to the Star Wars theme. I think you told me once that that really happened?
Erica: Yup, that's true.  In Vermont, when I was a kid, we had a rabbi named "Rabbi Steve" who played the guitar and tried to act cool by doing things like that.  My brother, in particular, thought the Star Wars Sch'ma was awesome.  My mom, not so much.
Me: In most stories I've read where the characters are Jewish, they usually end up being Orthodox. But that's not the case here.
Erica: I wanted to portray a modern Jewish family living a fairly secular life without sacrificing their identity as Jews.  When Jeremy entered the story, I was surprised (I hadn't planned on there being another Jewish kid… and then there he was on the page) but excited because I liked being able to not only show one kind of non-Orthodox family, but two!  And since Jeremy's family is more observant than Zelly's, I liked being able to show how there's a lot of variety within the spectrum of non-Orthodox Jews (for example, Jeremy's family is kosher and Zelly's is not).
Me: Did you have a grandfather in your life like Ace?
Erica: I did.  My grandpa Alan was definitely the main inspiration for Ace.  But as Ace evolved I actually incorporated aspects of other relatives.  For example, Ace collects rubber bands like my Grandma Dearie did, and he is loud like my Grandpa Benny (who was hard of hearing).  The Yiddish comes from my Great Uncle Mac and my great-grandparents, though my grandparents of course spoke Yiddish-inflected English as well.
Me: When did you get your first dog?
Erica: After begging for approximately five years, I received my first dog, Maggie, as a bat mitzvah present.
(Note to my kids: Don't get any ideas.) 
Me: Was he/she well behaved? Did you have to do any of the training?
Erica: Are you kidding?  She was the worst, and I did indeed take her to training classes or I don't think my family would have let me keep her!  I've actually taken all of my dogs to training, and when I was in high school and volunteering at the Humane Society of Chittenden County (VT), I helped teach dog obedience classes.
Me: I've been following some of your exploits with your dog Clover and they seem to be coming back to me as I'm reading Aces Wild. Did she help you write this book?
Erica: We adopted Clover when she was seven months old, which was about six months after our beloved dog Lucy died at the age of nineteen.  Since we hadn't had a puppy in a long time, we were unprepared for how strong Clover's chewing impulse was going to be.  She showed a great fondness for the legs of furniture, anything round, and books.  The episode in the book where Ace tries to eat a pincushion came from Clover, only she actually succeeded and ended up at the vet with a needle stuck in her stomach.  Luckily it made its way out without surgical intervention, much to our relief!
Me: I was glad to see OJ was back in full force! Couldn't leave him behind?
Erica: Of course O.J. is in the book. Nobody puts O.J. in the corner!  And I was pleased that there was a way to give O.J. a special role in Zelly's training challenges, as well as in her struggles to feel comfortable in her identity as a Jewish kid in a predominantly non-Jewish place.  Trying not to reveal what that role is, for those who have not yet read the book!
How is doing a picture book sequel (Chicken Butt's Back) similar to doing a middle-grade sequel?  How are they different?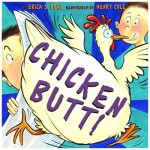 They are similar because you already have some of the characters, the setting, voice and tone established.  I thought this would make it easier but in many ways they are harder.  You don't want to tell the same story… you need to take your characters to new places.  With CHICKEN BUTT'S BACK! I decided to put our friend (and his fine, feathered alter ego) from CHICKEN BUTT! up against a new challenge – Mom – as well as taking his show on the road and into a public space – the supermarket – as well as introducing a new variant on the rhyming call and response – homonyms and homophones.  It also had to feel familiar, yet have surprises.  And it had to work as a read-aloud.  A tall order, but somehow it all came together, with fabulous support from my wonderful illustrator, Henry Cole.
With ACES WILD, this meant introducing new challenges for Zelly, but it also meant letting her struggle, fail, and question… so I went on more of a journey with her.  This took both of us to some tough places, but I think it taught me a lot about what the book needed.  Of course, I ended up writing another entire book in the process – hundreds of pages that ended up on the cutting room floor – though some of those fragments might get resurrected if I end up writing more about these characters.  They just didn't fit this narrative, and I learned that writing a sequel does not mean you can just ramble on about characters you love to spend time with and call it a book.  It needs to stand alone as a book in its own right.  It took a lot of time and a great editor (Erin Clarke) to get there, but I'm very glad I put in the time and effort, even if it was painful at times!
How does working at First Book inform your writing?
At First Book, we work to ensure that kids from low-income homes grow up with access to books so they can become readers and experience not only the incredible benefits that brings, but also the sheer joy of connecting with the world through the power of written word.  I am perhaps most proud of two of our new initiatives: The Stories for All Project, which is working to change the publishing landscape to make books more diverse and responsive to the needs of kids from low-income homes and those who do not often see characters like themselves in books, and Authors & Illustrators in Action – which enables authors and illustrators to join First Book's team.  I see the world through my work at First Book, so the kids we serve are first and foremost in everything I write. I make it a priority to Skype and visit many Title I schools – often becoming the first author their students have met – and connecting these schools to First Book's resources in the process.
Me: What's next for you?
Erica: My next book comes out July 31st!  It is KING OF THE ZOO, illustrated by my friend, the uber-talented Jackie Urbanovic (DUCK AT THE DOOR).  It's a picture book about a charismatic chameleon named Carlos who is thrilled that he is the one and only king of the zoo… until he learns that maybe he isn't!
Me: And finally: what's your secret talent? (For example: Wendy Shang can find things other people have lost and Kathy Erskine can make a good meal out of whatever happens to be in the fridge.)
Erica: I am awesome at parallel parking.  But I would trade that for Wendy or Kathy's secret talents!
To discover other middle-grade books and authors, check in with Sharon Messenger for Marvelous Middle-Grade Monday!