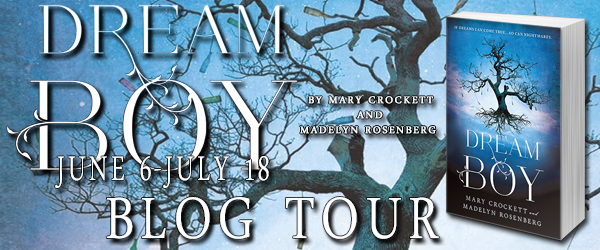 We laughed. We yelled. We teased. We listened to each other sound off about flooded basements and tricky freelance assignments and sick cats and crazy people. We tramped around the woods and solved a few (but by no means all) of the problems that come along with child rearing. And somehow, in between all of that, my friend Mary Crockett and I wrote a book.
Together.
Dream Boy comes out July 1st from Sourcebooks, and in the days leading up to that (and the days following) we have a group of fabulous bloggers who are hosting us as part of our Launch Tour. We hope you will visit them. The sites will feature reviews, guest posts (I finally get to talk about my thwarted career as a rock star), and give-aways. So now, without further ado:
June 6th: Today! Madelyn and Mary tell you exactly where to go. =)
June 8th: A book giveaway at YA BOOKS CENTRAL
June 9th: Find us at Kate Ormand's blog. Mary will be spreading herself thin and is also appearing at Reading is My Treasure and Fic Faire.
June 13th: Follow Madelyn over to talk rock music and leather pants at Buried in Books.
June 17th: Madelyn pays a visit to Spirit of Children's Literature. You can also see what Autumn is cooking up over at The Avid Reader.
June 18th: Look for us over at Artzicarol Ramblings. PLUS, Mary made a book trailer and it's going to be revealed on Mundie Moms.
June 19th: It's Nerd Herd time!
June 20th: Behind-the-scenes talk with Amy from Writing Hope and a review from Kelesea over at Literature Obsessed. Plus, Mary on the radio! (Ooh whoa oh oh oh on the radio.)
June 23rd: Mary hangs out with Giselle at Xpresso Reads.
June 24th: Madelyn answers some of Jean's tough questions at Book Nerd.
June 25th: Keeping it local, Madelyn runs down the street to visit Amy at Aya M Productions.
June 26th: Mary and Madelyn talk old movies with Erin at Jump Into Books.
June 27th: Mary is on the spot again, this time at Blogging Between the Lines.
June 30th: Learn 10 random things about Madelyn and Mary over at Jessica's Blog, Jessabella Reads.
Early July: Check out the review at Wondrous Reads.
July 1st: And T minus five seconds. Four. Three. Two. One. LAUNCH! Look who's been dreaming all over the web! Mary will have a round-up of authors sharing their dreams over at One Four Kidlit.
July 2nd: Mary hangs out with Carol Riggs at the Fearless Fifteeners.
July 3rd: Books in the Spotlight.
July 3rd: Heather's Book Chatter.
July 4th: Guest post with Lucy and a review of Dream Boy at Moonlight Gleam.
July 6th: Find out more about the debut author challenge at at That Artsy Reader Girl.
July 7th: Not on television yet, but we are on Kelly Vision.
July 8th:  Long and Short Reviews.
July 9th: Mallory Heart Reviews.
July 10th: Playlist time! Madelyn shares some of her favorite songs about dreams, plus some songs we listened to while writing Dream Boy, over on yamisfits.
July 11th: Mary visits with Tressa at Tressa's Wishful Endings.
July 12th: Mary dishes on Chilton fashion at the Unofficial Addiction Book Club. 
July 12th: If you're in Virginia, we'll be in Salem, live and in the flesh at the Salem Museum for our real world launch party from 3 to 5. Come see us! (Looking for a Northern Virginia date as well.)
July 14th: Hanging out today with Melissa over at Pimples, Popularity and Protagonists. We'll also be hanging out with Jill talking dreams at Bitches n' Prose. (We've cloned ourselves. Yay!)
July 15th: What are we doing? Oh, Just Reading Away the Days. We're also over at Book Swoon.
July 16th: Madelyn heads to Canada (virtually) to talk about (fictional) boys with Dayla at Book Addict, 24-7.
July 17th: Maryann (who created our lovely banner, by the way. Thanks, Maryann!) talks Dream Boy at Chapter by Chapter.
July 24th: Madelyn and Mary hang out with the fabulous people, live and in person, at One More Page Books and More. We'll talk about writing with a partner and fill you in on who wrote what. Locals (and not locals) should come check us out. The store also sells chocolate and wine!
Whew. More stuff as we find out about it. Meanwhile, we hope you'll look for our book!