Can you remember the first time you saw yourself in a book?
For me, it was when I read All-of-a-Kind Family by Sydney Taylor. The book was about five sisters living during the Depression. I had a little brother and was living in the 1970s. They wore starched petticoats and I wore flowery bell bottoms that got caught in the spokes of my bicycle. But I read that book and thought they're just like me. Because the girls were Jewish and they loved to read. I'd read about girls who liked to read before, of course, but I hadn't read about Jewish girls. They were quite religious, while my family was not. It didn't matter. I felt like I was looking in a mirror. I had a place in the world, and that purple-covered book became the most dog-earred one in my collection.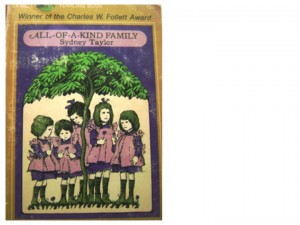 All of this is why I want to make sure everyone knows about the We Need Diverse Books campaign, currently on indiegogo. They are currently three-fourths of the way to their goal of $100,000. Money will be used to diversify classrooms, support diverse authors and programming,  and more. In other words, it will be used to help make sure kids see themselves in the literature that's out there. Check out the videos, including one from John Green: https://www.indiegogo.com/projects/we-need-diverse-books
While I'm here, I wanted to mention All-of-a-Kind Family was a series, but save the original, the rest have been out of print these past few years. I found this out when I decided my daughter needed a better copy of All-of-a-Kind Family Downtown since mine had lost the cover. The only one I could find was on eBay for $45. But they're back! Lizzie Skurnick Books reissued the books this summer. I ordered them right away. But I still have my dog-earred copies, too. Even the one without the cover.
When did you first see yourself in a book?