Lisa Lewis Tyre grew up in a family of storytellers in Tennessee. Her debut novel, Last in a Long Line of Rebels, got a pretty star from the folks at Publishers Weekly who called it "an accomplished debut." The book, which came out last month, is about 12-year-old Lou, who lives in the oldest house in county. Until the county threatens to tear it down, that is. A book about families, mystery, history, and family history.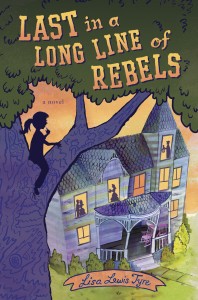 Me: I noted in your bio that you use the term SOUTHERN children's author to describe yourself — the southern came first. Could you talk a little about why?
Lisa: I find identity so interesting. There are people who place it in their faith, their politics, gender, etc. For whatever reason, I can't seem to separate mine from my Southernness.
Me: As someone who had to stop watching House of Cards because of Kevin Spacey's (alleged) South Carolina accent, I wondered what pressures you feel when you're depicting the South in your work. What are you striving for?
Lisa: I know what you mean about watching southerners depicted in film! I wanted to portray the interesting, fun, wonderful characters that we have in the South, without making them a caricature. It's a fine line. Hopefully I did the area justice!
Me: You grew up in a family of story tellers. Tell us one of your favorite family stories.
Lisa: Ah, there are so many! One of my favorites involves my grandmother. She was one of 11 children, and the first few have very normal names. Somewhere around child No. 7 things take a weird turn. One evening before she was born, her Uncle John was leaving a pub. Someone called out from the dark, "Is that you, John?" He said yes, and was shot and killed! It turns out the person was waiting on a different John. It was a case of mistaken identity! My great-grandfather was so upset, he swore he'd name his children so that it would never happen to them. That's why I have a grandmother named A.G (still alive at 102!), great uncles named QX and Leathers, and great-aunts named Gracie ToeToe and Tipsy Topsy!
Me: So no problems thinking of character names, then! When did you first you consider yourself a storyteller?
Lisa: It's a recent discovery. I think preserving my family stories has gotten more important to me as I've grown older. If they're not written down, we're going to lose them! That's why I blog about my family's history so often on my website.
Me: And when did you first consider yourself a writer?
Lisa: The bar is always moving. I guess now that I'm published I can say out loud that I am, but secretly I've been saying it to myself for years. Saying it would help to remind me that writer's write, so I needed to get to work. If I didn't believe it, who else would?
Me: I don't think people ever get tired of "It's-my-first-book" stories. Why don't you go ahead and tell us that one?
Lisa: Sure! I grew up about 3 miles outside of Livingston, Tenn., on a tiny stretch of road that the locals called Zolicoffer. One day, I asked why they called it that and they told me that during the Civil War, General Felix Zollicoffer had camped there. As if that wasn't exciting enough, they then said that during the 1950s, some kids found gold nearby. The theory was that it belonged to the General. I never stopped thinking about that gold, obviously, and LAST IN A LONG LINE OF REBELS was born.
About six years ago I decided to get serious about publishing a book, so I finished the manuscript, started querying, and found my wonderful agent, Susan Hawk. I am so incredibly happy that she took it to Nancy Paulsen. It's a dream come true!
Me: Give us a six word summary of your book. (I know, right?)
Lisa: Lou hunts gold to save house.
Me: And some fun questions: How about telling us your favorite Southern meal?
Lisa: Fried Chicken, potato salad, baked beans, homemade rolls, with deviled eggs.
Me: Favorite Southern dessert?
Lisa: Pecan Pie
Me: Favorite Southern slang?
Lisa: Hold your taters – Mainly because my mom used to say it.
Me: What are you working on now?
Lisa: I am working on a middle grade novel about a 12 year-old girl who, after the death of her mother, finds that when she was born she was placed up for adoption for 8 days. Rather than go and live with some awful relatives, she decides to pursue a relationship with the family she almost had.
Thanks, Lisa! You can find out more about Lisa by visiting her website at lisalewistyre.com or by following her on twitter at @lisalewistyre. And to read more about middle grade books, be sure to check in with the folks at Marvelous Middle-Grade Mondays.