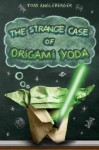 The other night I came home to find that our copies of The Strange Case of Origami Yoda had arrived before the launch date. My husband and kids were in bed, reading together. They must have been reading for awhile; they were on page 96. And they were all laughing like crazy. Something about Dwight's sweater vest, I think. And a picture of Tatooine Idol.
You can't miss Origami Yoda, Tom Angleberger's book about a weird kid named Dwight and his wise Yoda finger puppet, which dispenses advice to the sixth grade at McQuarrie Middle School. It was on the front of the Abrams spring catalog. It was on the Starwars.com homepage. There's a video on how to make the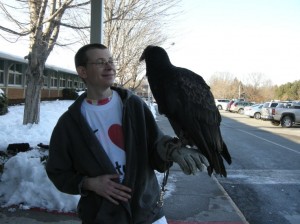 Yoda finger puppet that Tom designed. Plus Tom, who also writes under the name of Sam Riddleburger, has a website dedicated to the book.
Origami Yoda is officially out today, which makes it brand-spanking new. But you know that when something's new to us, the author's been working on it for a long, long time. Then comes promo season, which is followed by early reviews. There's a lot out there about this book already, but not enough — especially after my kids dubbed it The Best Book the Whole Wide World. (Other books that share this title in our house include Harry Potter and Wind in the Willows. No slouches, they.)
In honor of Yoda, I've remodeled my virtual living room. The paprika couch has been hauled off by the virtual Good Will. I've replaced it with something silk and sage to reflect Yoda's intellect and hue. Have a seat to learn more about how Tom got the licensing to use Yoda's name, his secret talent, and how you can win a signed copy of his new book.
Me: For a while, when you thought you couldn't get the licensing to use Yoda's name, you were trying to save the book by turning the Yoda finger puppet into someone who didn't have any strings attached. Could you list a few of the alternatives you considered and why you rejected them?
Tom: The book started out as Origami Yoda and was written as Origami Yoda. However, there was a scary period when it looked like the licensing wouldn't happen. I panicked! I tried rewriting the book as Origami Einstein and also folded an Origami Kung-Fu master which was pretty cool. But then one day I got The Best Email of All Time! Which said that Lucasfilm had approved it!
Me: Could you talk about that for a second?
Tom: The story I heard was that the person in charge of approving books at Lucasfilm took the book home for her son to read. And the son read it and said, "Let them do it." That kid's name is hidden in the book as a secret thank-you.
Me: The book has a bunch of different narrators taking us through their encounters with Yoda and Dwight. What were the challenges of telling a story in so many different voices?
Tom: Sometimes I might be telling a story as Lance, for example, and I start to feel like the voice sounds more like another character. Do I change the voice or change the character?
Me: Whose voice is closest to your own (or, at least, your younger self)?
Tom: Tommy is very easy for me to write. He comes pretty unfiltered from my brain. I'm sorry to say, however, that the awful whiner, complainer, smart-aleck Harvey is also pretty easy for me to write.
Me: Did you notice that the initials for Origami Yoda spell OY?
Tom: Yes. I'm not sure if that means "Oy Vey" or "Oy!" as uttered by Jocko the late 80s battery salesman.
Me: You are married to a writer (talented and lovely author/illustrator Cece Bell). How does that inform your own writing? Do you challenge each other? Cheer for each other? Feel competitive with each other? Edit each other?
Tom: Cece and I almost always edit each others work before it goes out to anybody. Cece is a great editor. She triggered a major re-write of "Horton Halfpott" my book that will come out in 2011. There was all this jumping back and forth in the timeline and she told me it was too confusing. And it WAS too confusing. So I got back to work. But, it can be very difficult to tell your spouse that their book needs work.
Me: I was excited to see that you got to do so many line illustrations for this book, from Star Wars characters to a very Finsteresque Elvis.
Tom: The drawings were a lot of fun! At first I wasn't sure exactly what I was doing, but when I noticed that Mr. Snider looked a lot like Jabba the Hutt and I drew the picture of Mr. Snider AS Jabba the Hutt, everything clicked. It was great to get to draw so many different Star Wars characters! LucasFilm was so generous in letting me use everybody I wanted from Origami Chewbacca to the bus load of teeny Star Wars characters. (Can you name them all?) [Editors note: I wasn't so sure about the guy between Leia and Vader. Psyched to recognize Nien Nunb, though, my husband's favorite of the minor characters.]
Me: Who's your favorite Star Wars character?
Tom: It's tempting to say Yoda, but it's impossible for me to choose. I even have trouble picking a favorite minor character. But I think I can say definitely that Grand Moff Tarkin is my favorite minor villain.
Me: Year you first watched Star Wars
Tom: 1977. I was six and did not understand it on the first viewing. I saw it again and something clicked.
Me: Estimated number of times you have seen a Star Wars film.
Tom: I am not one of those people that watches them over and over and over. I don't think a truly great movie is meant for frequent consumption. With that said, when I was a kid I listened obsessively to a 1-hour cassette tape with lots of movie dialogue and narration by Roscoe Lee Brown. I would recite it — to myself — on my long school bus ride.
Me: Favorite Star Wars-related toy?
Tom: Well, it would probably be my Kenner Yoda action figure. The summer of 1980 — when Empire came out — it wasn't easy to find one. In fact we couldn't find one.
Then one day a tiny package came and my grandmother had found one and mailed it to me. Origami Yoda is dedicted to her, along with my parents who subsidized many other Kenner purchases.
Me: Favorite Star Wars item you would buy if you could actually afford it. (I myself am a fan of the taun taun sleeping bag, which has graphics of intestines on the inside. Brilliant.)
Tom: I would love to have an original John Mollo sketch.
Me: Favorite Yoda quote?
Tom: Oh come on, how can I narrow that down? I truly love the moments when he annoys Luke before revealing himself as Yoda. Amazing that we could only really experience that one time — and that kids today won't ever get to, because they'll know it's Yoda from the moment he appears.
Me: Agreed. And I like that "Do or do not… there is no try" quote, for motivational purposes. I was glad to see it made it into the book. Here's a question I'm asking everybody these days: What's your secret talent? For instance: my brother can make things look clean quickly when they really aren't. And you can't count juggling, because that's your not-so-secret talent. (But in case readers here don't know about it: I have seen Tom juggle and an apple and a knife and have the apple slice the knife in mid air. Between juggling and haiku about nasty smells, no one can beat Tom for a school visit.)
Tom: Does folding Origami Yodas count? Because I seriously think I've folded more than anyone else in the world. Of course, I'm referring only to my simple finger-puppet version. I still haven't folded Kawahata's magnificent version of Yoda, because frankly I'm not that good. (ed note: Tom made 1,000 origami Yodas to accompany promo copies of his book.) I'm also a square-dance caller, but not a very good one.
Me: How about in writing? Do you have any secret superpowers there?
Tom: No, but I do have a kryptonite-type vulnerability. I can't describe things or people. There's almost no description in my books.
Me: It gets across somehow, though, because I can totally see Dwight on his stomach in the cafeteria. Thanks, Tom. I know this book was a labor of love. And thanks to the rest of you, for reading.
Yoda Drawing: Enter you must!
If you'd like to be eligible for a chance to win a signed copy of Origami Yoda, just leave a note congratulating Tom on his book in the comments. And, oh, let's say you have to do it in your very best Yoda style. You have between today, Andy Gibb's birthday, and the end of the day March 10th, Edie Brickell's birthday. I'll draw a name from one of my magic hats and let you know if you've won.