I've always been a fan of New Year's Resolutions. To me, they're not iron-clad rules. Nor are they promises destined to be broken or reminders of moth-eaten baggage. They're more guidelines or moments of clarity: This is what I believe. This will give me focus as the old year ends and the new one begins. This is how I want to approach my writing life. My favorite list of resolutions has always been Woody Guthrie's from 1943, but last year I collected a bunch of resolutions from some kid-lit authors and artists that I knew. That list inspired me throughout the year. Most applied to writing or art, but they also seemed to apply to the other things we tackle in life, too. So this year, I collected some more. Read on for the results, and if you'd like, please add your own resolutions in the comments, whatever your calling.
Wishing you a wonderful New Year,
Madelyn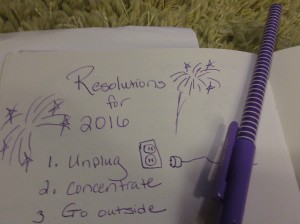 Gigi Amateau, author of TWO FOR JOY and DANTE OF THE MAURY RIVER: This year I resolve to fear less and to open more, to stop rushing and start listening, deeply. I resolve to love all and to love more better, including our generous planet. I promise to bring the best and the worst of myself to my writing and always in faith, hope and love.
Hannah Rogers Barnaby, author of WONDER SHOW and SOME OF THE PARTS, which comes out in February: My resolution is to write two pages a day, every day, whether it's fully drafted prose or notes for a project or long runs of dialogue. Kate DiCamillo has said that two pages is her daily writing practice, and if it's good enough for Kate DiCamillo…
Cece Bell, author/illustrator of EL DEAFO and I YAM A DONKEY: I guess this year's resolution is to more carefully protect my working time. And to STAY OFF THE INTERNET during that working time! Also, to try to do something every day that is fun—that is, not for a deadline or for any specific book or project. A little warm-up sketch or something!
Anne Blankman, author of PRISONER OF NIGHT AND FOG and the forthcoming TRAITOR ANGELS: This year I resolve not to lose sight of the reason I started writing in the first place: For the joy of it!
Fred Bowen, author of PERFECT GAME, DOUBLE REVERSE and OUT OF BOUNDS: My resolution is to read more kids' literature.  I became a children's writer by an unusual route.  I was a lawyer who started writing kids sports books because I didn't like the sports books I was reading to my son.  Since then, I have been trying to "catch up" with children's books.  I have found it is a rich and rewarding literature.  So in 2016 I resolve to read more of it.
Marfé Ferguson Delano, author of MASTER GEORGE'S PEOPLE: GEORGE WASHINGTON, HIS SLAVES AND HIS REVOLUTIONARY TRANSFORMATION: I'm aiming to take baby steps instead of freaking myself out with the enormity of a project.
Moira Rose Donohue, author of PARROT GENIUS and KANGAROO TO THE RESCUE: I shall cut through the cleverness and write the heart!
Kathryn Erskine, author of THE BADGER KNIGHT and the forthcoming MAMA AFRICA: I will return to my vision book (the one I usually forget to look at). Seeing what I'd planned for this year — sell a book, finish and sell a second, and complete two drafts — I see that I did sell the book I'd hoped, the second one is under consideration, and I completed a (rough) draft of one of the two manuscripts I'd hoped to finish.  Not bad, considering the travel and other things going on.  And even though I dreamt big for travel — two of the trips came true and another is happening in February!  There really is something helpful about writing down your dreams and (occasionally) remembering to look at them.
Laura Gehl, author of ONE BIG PAIR OF UNDERWEAR and PEEP AND EGG:  I have a number of 2016 goals related to writing and reading, but I think the most important one is this: Become friends with more writers!  Making these connections has been so important to the quality of my writing and the quality of my life over the past few years.
Marty Rhodes Figley, author of EMILY AND CARLO and the forthcoming JIM THE WONDER DOG: One of my favorite quotes from Oscar Wilde is "Be yourself; everyone else is taken."  This year I'll try not to worry about what everyone else is doing/writing and continue with renewed ardor and vigor on my own personal writing journey.
Jacqueline Jules, author of the ZAPATO POWER series and the SOFIA MARTINEZ series: To be grateful, even on days of rejection, for the joy and purpose that writing gives me. And to make progress on the young adult novel I just started and have been planning to write for over 20 years.
Hena Khan, author of NIGHT OF THE MOON and GOLDEN DOMES AND SILVER LANTERNS: I am setting myself actual deadlines in 2016 for all my writing projects, and will learn to be accountable to me! I write better under pressure, and am not nearly as productive without a due date, so I need to make some up.
Lisa Maxwell, author of SWEET UNREST and the forthcoming UNHOOKED: My resolution is to find some balance. I've been working so much and so hard for so long that I think I've forgotten what it's like to not constantly be going, going, going. I want to pull back and find some balance, so that writing can be the thing that feeds me again.
Jodi Meadows, author of INCARNATE TRILOGY, THE ORPHAN QUEEN and co-author of MY LADY JANE: With two books coming out in 2016, I think the most important thing I can remember to do is take it easy on myself. I want to take breaks when I need them, not feel guilty when I have to turn something down, and just read more.
Meg Medina, author of YAQUI DELGADO WANTS TO KICK YOUR ASS and the forthcoming BURN BABY BURN:  I resolve to honor my writing time and to grow by pushing myself to try either a storytelling style or structure that is new and uncomfortable for me.
Anne Marie Pace, author of The VAMPIRINA series and the forthcoming PIGLOO: To stop being afraid.
Caroline T. Richmond, author of THE ONLY THING TO FEAR (ed. note: I didn't plan that juxtaposition with AM's resolution, honest) and coming soon: THE DARKEST HOUR: My resolution for 2016 is to stop being a martyr and ask for help when I need it. 'Cause it ain't no fun being a martyr!
Madelyn Rosenberg, author of NANNY X RETURNS and HOW TO BEHAVE AT A DOG SHOW: My goal for the year is to concentrate. I'll be looking to unplug,  hush the noise, go outside and focus more fully and intently on my writing and anything else I take on.
Wendy Shang, author of THE GREAT WALL OF LUCY WU and THE WAY HOME LOOKS NOW: To protect my writing time every single day. For me, this means not only saying no to other meaningful work and phone calls, but also shutting out the loud and shiny distractions that come knocking while I'm trying to write.
Robin Talley, author of THE LIES WE TELL OURSELVES and WHAT WE LEFT BEHIND: My resolution is to find a work-life-writing balance that works for my new life as a parent!
Theodore Taylor III, illustrator of WHEN THE BEAT WAS BORN: DJ KOOL HERC AND THE CREATION OF HIP HOP and the LITTLE SHAQ series: My New Year's resolution is to manage my time better. I want to get back in the habit of drawing regularly and honing my craft before hopping onto a video game or staring at the internet for hours on end. Hopefully, I can find balance.
Tiffany Trent, author of THE TINKER KING: I tend not to make resolutions but choose touchstone words for the year. FOCUS embodies everything I want to do in 2016. For writing, that means focusing on the story, not on outcomes.
Janet Wong, author of YOU HAVE TO WRITE and co-creator of the POETRY FRIDAY ANTHOLOGY series: My writing resolution this year hopefully will help me pick up last year's resolution of tidying up: I plan to write a daily entry in a journal of favorite things as a way of cataloging what "sparks joy" and also a way to say goodbye to things I haven't used in years (mostly gifts). The goal: a house filled only with things that spark joy—and a notebook full of memories of things that hopefully will find a better home!