I'm not going to write about the death of every music icon, I swear. But music is woven into our memories. Music is what holds our memories in place. Here are a few, courtesy of Earth, Wind & Fire.
– It's the 1970s and my family is going to California, one of the first plane trips we've ever taken. My brother and I are listening to music through headsets that plug right into the arms of the chairs. We are amazed by this technology. We don't own a Walkman yet (because it isn't the 80s) so this headphone business is brand new. The music pumps straight into our brains. Long flight, short playlist. We listen to September at least six times. (Also, Billy Joel's My Life.)
– Now I'm in middle school, and the local record store has put a bunch of posters, album-cover size, in a bin for free. I spot a cover for EW&F. I don't know much about the band except for September. I pick it anyway and go home to look for Scotch tape.
– Roller rink. Boogie Wonderland. Every Friday night.
-Marching Band in the 1980s, under the direction of David Mills. We are playing EW&F's In the Stone. Whenever I hear that opening brass, I'm back on the field holding my saxophone, and my fingers are freezing. My friend Joe (stellar trumpet player) has a recording of the music. Our rendition is here if you want to check it out.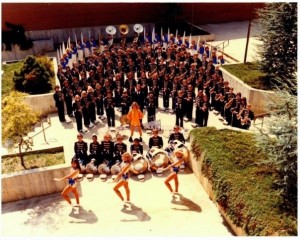 – And now we're at an Obama rally in Manassas. Electricity in the air and Shining Star is on the P.A. Another one that repeats as we wait and wait and wait. The kids fall asleep on the hard ground, but we wake them up when the future president takes the stage.
Thanks for indulging me. As long as you're here and we're talking about music: I found out the ALA is bringing back the Bowie Read poster, in case you're interested.