This is my copy of All-of-a-Kind Family, the first in a series of books by Sydney Taylor. I loved this book as a kid and I still show it off when I visit schools. Because when I discovered this book, I felt like I'd finally found characters who were exactly like me.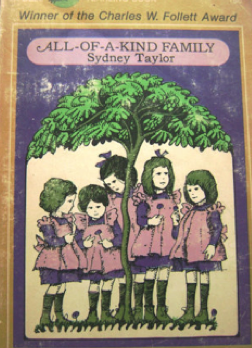 And, okay, they lived on New York's Lower East Side and I lived in Blacksburg, Virginia. And they were five sisters and I had a little brother. They were in the early part of the 20th century; I was a child of the 70s and 80s. And they were poor and we had enough. But they were Jewish, like me, and it was the first time I'd met other Jewish girls in literature. Coming from a spot in the U.S. where there were very few Jewish kids, finding Ella, Henny, Sarah, Charlotte and Gertie meant everything.
So Wendy Shang and I were thrilled when we found out we were receiving a Sydney Taylor honor for THIS IS JUST A TEST. The sticker has Sydney Taylor's name on it. It's a circle — and this does have that "full circle" feel And it's silver, which seems especially apt: Sydney Taylor's book was my very first mirror.
Wendy and I hope that our book, about a Chinese-American-Jewish kid named David,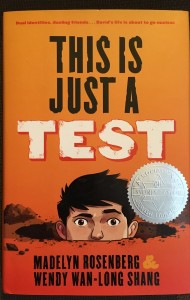 will do the same thing for other middle-grade readers that All-of-a-Kind Family did for me. We hope that all kids see themselves in David, of course. But we especially hope that kids who haven't seen themselves before will open the book and say: Here I am! Even if David grew up in the 80s and they're growing up now. Even if David's grandmothers are at war with one another and their grandmothers are not. Even if David is a master of trivia and they are masters at soccer. Even if David was afraid of a nuclear war and they are — oh.
We hope they'll see themselves as a part of the literary world and know that their stories matter. And we hope that they'll tell them.
Thanks so, so much to the Association of Jewish Libraries and to the Sydney Taylor Committee. Thanks to Lisa Sandell and everyone at Scholastic, and a big shoutout to Chris Danger for his distinctive artwork. And thank you, Sydney Taylor.
For a list of all of the books honored (congratulations, everyone!) visit the Association of Jewish Libraries.
To order THIS IS JUST A TEST, call your favorite Indie or my favorite Indie. You can also order online.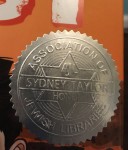 Save