At Kidlitcon, the kidlitosphere blogging conference, Sara Lewis Holmes mentioned that a blog is akin to your living room — it's the place on the web where you hang out. Today I'm psyched to have Charlottesville author Kathy Erskine hanging out here with me.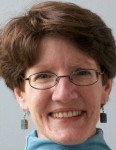 I've never been great with aesthetics. When I moved into my house, the painter flat out refused to paint the dining room in the colors I had chosen. But for now I'm envisioning a swanky new couch and maybe a matching, overstuffed chair, the color of paprika. Kathy can have the chair.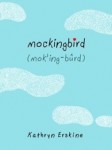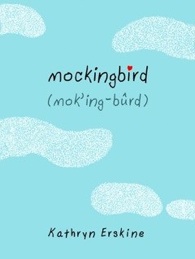 A couple of months ago I was lucky enough to get an Advance Reading Copy of Kathy's new novel Mockingbird (Philomel, April 2010, recommended for kids 11 and up). It's good in the truest sense of the word, the one you mention when people ask if you've read any good books lately. It's a book you keep reading, even when it's late and you know you have to get up early because you didn't do the things you should have done because you were busy, er, reading. This book is going places, so why wait for spring to talk about it? Let's get the buzz started by talking to Kathy RIGHT NOW.
And if you'd like a chance to win an ARC yourself, leave a comment at the bottom of the post between today (Elvis's birthday) and Jan. 15 (Ronnie Van Zant's birthday). I'll draw names and Kathy will send a SIGNED COPY of Mockingbird to the winner.
Me: When you look at Mockingbird on paper (and, okay, I know your book IS on paper, but you know what I mean) you have two huge things going on: A shooting at a middle school, or the aftermath of that shooting, and Caitlin, a little girl coping with all of this and Asperger's, too. Yet somehow when you put the things together, I find neither one as overwhelming as I might individually. Was that all part of some master plan?
Kathy: I purposely started the story AFTER the shooting so that part is not so shocking and painful because we haven't lived through the shooting and we don't know anything about the main character's older brother, Devon. As we learn more about him, it's obviously devastating that she has lost such a crucial person in her life, but it's always tempered by her viewpoint and memories of what she said which sometimes are sad but sometimes are kind of funny, which breaks the tension. I think because Caitlin handles things so matter-of-factly, in-the-moment, and one-step-at-a-time, the story ends up not feeling so overwhelming.
Me: Although the shootings in your book happen at a middle school, you've said it was the overwhelming shootings at Virginia Tech that spurred you into writing. Being from Blacksburg, Va., I think that's one of the things that drew me to this book. So many people who live there (and who are from there) are still looking for healing. Could you talk a little bit about how the shootings at Tech affected you?
Kathy: I was devastated. It still brings me to tears every time I think about it. It's not logical for it to have touched me so deeply because I knew no one immediately affected by the shootings nor was it even my hometown, like it is for you. Sure, I thought about the fact that my children will probably end up at Virginia colleges, even Tech, but it wasn't my kids I was worried about. It was . . . people, just people in general, and what a total, complete waste of life it all was. It was so visceral, I knew I had to write about it, or at least channel the feelings into writing. When I thought about the fact that, to me, [Seung-Hui] Cho was a disturbed individual who could've, maybe, benefited from more help over the years, it seemed to dovetail with the story I wanted to write about a child with Asperger's, a story which, until then, had no real plot. A girl with Asperger's having to face life without her brother–which ultimately means having to deal with the world by herself, which is what all kids with Asperger's, and all of us, have to do–well, that was a real plot. Caitlin has issues which make her appear unusual and I just didn't want people to shut her out. I wanted them to see why she thinks and says and acts the way she does so that, in some way, it all makes sense. Incidentally, Caitlin's school counselor, Mrs. Brook, is in the book to make a statement. She needs to be there for Caitlin. She needs to be there in real life for all the Caitlins out there. She can help Caitlin understand her world and help others understand Caitlin. Ultimately, of course, it's up to all of us to understand each other.
Me: Could you talk a bit, then, about Caitlin's point of view, about why you wanted to tell the story from the point of view of a girl with Asperger's?
Kathy: My daughter was diagnosed with Asperger's when she was 8, and the diagnosis made a lot of sense to us. It explained many of her behaviors. When we tried to see things from her point of view, who she was, it was so much easier to understand her responses. It also took away the feelings of frustration, confusion, powerlessness, hurt, anger — all because we understood which, of course, is the point I'm trying to make in MOCKINGBIRD. My whole point was to get inside the head of a child with Asperger's so readers could see and feel for themselves what it's like to have Asperger's — how it looks and feels from the inside, and how the reactions of others look and feel.
Me: Has your daughter read the book? What did she think?
Kathy: She enjoyed it and thought it was realistic. She hasn't given me a lot of feedback. I think she's still processing it. She does differentiate herself from the girl in the story and, at this point, she's right because she has changed a lot. She was the model, though, for Caitlin.
Me: Would you talk a bit about the theme of communication in Quaking and Mockingbird, your two novels so far?
Kathy: The communication to me is a vehicle to understanding. Both of my main characters have difficulty with communicating so they are judged inappropriately in — and also make their own inappropriate judgments. Once they are able to communicate better, others are better able to understand them and, in both cases, their lives become much easier and more satisfying.
Me; A lot of writers seem to have a theme that they approach a dozen different ways and can't stop writing about. What's yours? Communication? Something else?
Kathy: I think it's about tolerance and understanding. My first novel is about a prickly teen who needs to be tolerated (although that takes a lot of effort at first!) and also about tolerating people with different beliefs–political, religious, social, etc. My upcoming novel's main character has learning disabilities, although it's really more a book about him having to deal with some really wacky people. In the end, he has to learn to accept himself. And my first first book (the one before my QUAKING "debut") deals with defying racism and authoritarianism in apartheid South Africa. My other theme is family, the search for family, and how a family can be any group of people, not at all limited by birth.
Me: I wouldn't call this a feel-good story, due to the circumstances around which you're writing, but I find that I do feel really good about Caitlin. I like her as a character and what's more, I feel like I understand her in the end, even if she might not understand me.
Kathy: Yay! That's how I was hoping people would feel. You spoke of themes, and something I always want at the end of my books, no matter how "tough" the story, is hope. I don't think I could write a book that doesn't end with hope. Hope is everything.
Me: I heard from some of your other writing friends that this one came pretty easily to you — and if we look at the time you started writing this, after the Tech shooting on April 16, 2007, to publication, April 15, 2010, that's pretty quick for the publishing world. Do you want to talk about your process (or epiphany, as the case may be?)
Kathy: Yes, this kind of poured out after the Virginia Tech shootings. I already had Caitlin in my head and knew who she was, I just didn't know what to do with her. This manuscript was really completed, edited, etc. a year ago (Jan. '09).
Me: Harper Lee's To Kill a Mockingbird holds an important place in your book. Just wondering: How many times did you read that book, growing up and as an adult?
Kathy: Once as a kid, at about 8 or 9, when I really "got" Scout and the racism issue (having lived in South Africa), but I'm not sure how much else I got out of it, and once as an adult, when I understood the woman telling the story.
Me: What was the toughest part about writing this book?
Kathy: I can't think of anything, honestly. This one wrote itself.
Me: The easiest?
Kathy: All of it. (This is NOT the case for any of my other novels, past or present!)
Just for fun
Me: What is your secret talent? For example, my brother is an expert at making things look clean very quickly when they're actually not.
Kathy: Sudoku and SET (a pattern matching game). And I can take an assortment of odd ingredients and come up with a pretty decent meal.
Me: How about in writing? Do you have a superpower there?
Kathy: Probably dialog comes easiest, although those voices in my head can go on and on and get themselves totally off track so it's a bit of a mixed blessing.
For more about Kathy, visit her website and blog at www.kathrynerskine.com. Also, please note that while she goes by Kathy when she's in the living room, the name on the book is the more formal Kathryn. I didn't use it here because, as Kathy said, "I always feel like I'm in trouble — I go right back to my 12 year old self in the Hogwarts-type school I attended and I hear the British teacher voice . . . . "Kaah-thryn!"