I've always been a fan of those lesser holidays like International Pickle Week, which is celebrated in May. Many of them are all about commercialism (buy pickles! buy artichokes! buy peanut butter!) but I somehow don't mind the way I do with the winter holidays (buy everything!)
This January I skipped National Bloody Mary Day (January 1st) but in the spirit of resolutions, I am firmly embracing National Clean Off Your Desk Day, celebrated today, Jan. 10. Reasons abound, but my main reason is this one: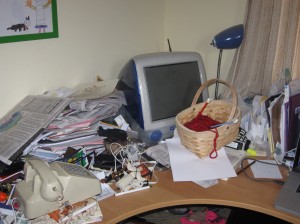 If you wonder where I write, you can see my laptop peeking out of the right hand corner of my picture. Clearly this is going to take more than a day.
UPDATE:
Several days later: Not perfect but infinitely more manageable. The thing that took the longest was backing up my old computer, particularly the photos from 2003. The only problem with my new arrangement seems to be that now I can't escape how ugly these curtains are. They came with the house five years ago, and I haven't replaced them. Yet.