Walter Dean Myers, whom Jon Scieszka called a cross between "Darth Vader and Pat the Bunny," was inducted yesterday as the new ambassador of children's literature. The event was held in the Library of Congress' Thomas Jefferson Building. (That's the building you'll see pictured in the dictionary next to "hallowed halls.")
Here's a quick snapshot of Myers with previous ambassadors Scieszka and Katherine Paterson, all looking at someone else's camera, taken from far away and without a flash. And yet I still managed to give them red-eye!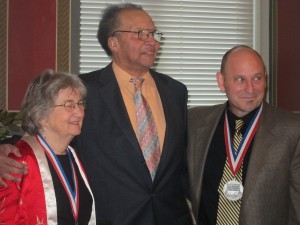 Okay, so I'm not a photographer. That's still a lot of awesome in one place, no?
Myers' platform for his two-year term is "Reading isn't optional."
And saving the world. And world peace. Which would both require an element of reading, I think — of children's books in particular.
You want to know what else could encourage readers, aside from the writings of our ambassadors, past and present?
That's right: Cookies!

My friend Rachael took this picture of me as fangirl. I wasn't planning to go the fangirl route, actually, opting instead to catch up with friends and try the food at the Museum of the American Indian's cafe. But I'm not above wanting to impress my kids.