Hoping you'll join us next week for the Sydney Taylor Blog tour, where bloggers go behind-the-scenes with award-winning authors and illustrators of some amazing Jewish children's books. Check back here on the 14th for my interview with illustrator Alexi Natchev. The full tour schedule is below: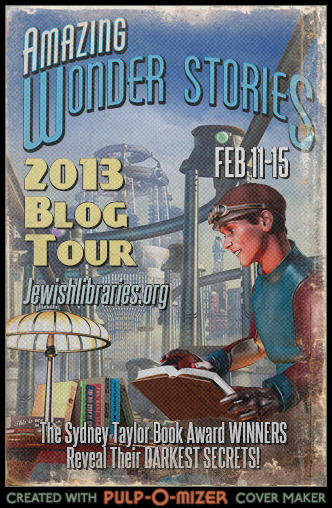 MONDAY, FEBRUARY 11, 2013
Ann Redisch Stampler, author of The Wooden Sword, visits  Shelf-Employed
Carol Liddiment, illustrator of The Wooden Sword, is over at Ann Koffsky's Blog
Doreen Rappaport, author of Beyond Courage: The Untold Storyof Jewish Resistance During the Holocaust will be at Bildungsroman
TUESDAY, FEBRUARY 12, 2013
Linda Glaser, author of Hannah's Way, is at This Messy Life
Adam Gustavson, illustrator of Hannah's Way, will be at Here in HP
Louise Borden, author of His Name was Raoul Wallenberg, is at Randomly Reading
Deborah Heiligman, author of Intentions, will be at The Fourth Musketeer
WEDNESDAY, FEBRUARY 13, 2013
Sheri Sinykin, author of Zayde Comes to Live, is at Read, Write, Repeat
Kristina Swarner, illustrator of Zayde Comes to Live, is at Reading and Writing.
THURSDAY, FEBRUARY 14, 2013
Linda Leopold Strauss, author of The Elijah Door, will be at Pen and Prose
Alexi Natchev, illustrator of The Elijah Door, will be right here!
FRIDAY, FEBRUARY 15, 2013
Blog Tour Wrap-Up at The Whole Megillah