I was so happy Canary in the Coal Mine got to represent West Virginia at the National Book Festival this weekend in the Pavilion of States. Here's a breakdown in pictures.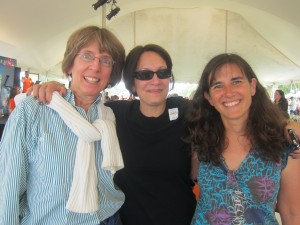 With Meg Medina and AB Westrick, organizers of Teen '13 in Richmond. Meg represented Virginia at the book festival with Tia Isa Wants a Car. Anne just published Brotherhood.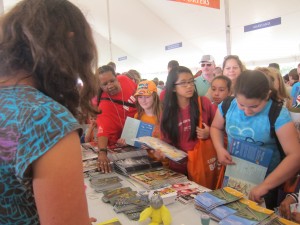 And now for some words:
During breaks I saw:
Jon Klassen: Deadpan, humble, hilarious.
Matt and Jennifer Holm: Energetic, chock full of contagious enthusiasm. We have a Babymouse fan in the house, but everyone re-upped when we learned: Matt loves Star Wars, Jenni's husband designs video games, Jenni's favorite book growing up was The Black Cauldron.
Monica Brown and Rafael Lopez: Fun, fluid and fabulous.
Best tables at the Pavilion of States (besides West Virginia, of course): Utah! Because the librarian there knew the owner of the restaurant that was last featured on Diners, Drive-ins and Dives. And because they gave away salt. And New York. Because it had Rocco Staino.