You should see the variety of items Jacqueline Jules brings in to our writing critique group every other week. Picture books, poems, middle-grades, early readers. You name it, Jackie's written it.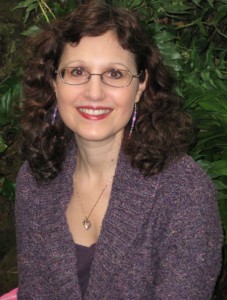 This week, on the cusp of  the publication of her fifth Zapato Power book, Freddie Ramos Stomps the Snow, Jackie answered some questions about everyone's favorite Olympic sport: genre jumping.
ME: Which came first, chicken or egg, poetry, picture book or novel?
JACQUELINE: I wrote poetry long before I wrote short stories, picture books, or novels. I started in middle school.
ME: What was the first thing you published?
JACQUELINE: I am not 100% sure but I know it was a poem. My earliest publications included poems in Young Judaea Magazine, Cosmopolitan, and America.
When did you publish something in a different form? I published a short story in Young Judaea Magazine and then I had a humor essay published in Woman's World. I also did essays and articles for local newspapers during this time. (The late 1980's).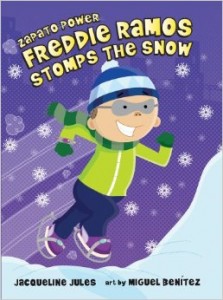 ME: Are you a one-project-at-a-time person, or do you tend to mix it up? How easy is it for you to go back and forth between forms? In other words, talk a bit about your writing life.
JACQUELINE: It is not unusual for me to work on both poems and picture books in the same week or even the same day. Yesterday evening, I had the files open for a poem and an easy reader. I switched back and forth, fiddling with both files before giving up and going to bed. When I woke up, the words for the poem fell into place. Then after lunch, I concentrated on the easy reader. That's how it works sometimes. Other times, I feel like I have to see where I'm going with a project and I keep a single-minded focus until I come to the end of a first draft or a chapter.
ME: Are there themes or places in your picture books that you tend to explore again in your poetry or novels?
JACQUELINE: There are many ways to view the same topic. Visual artists often do a series of self-portraits or still lifes. In the same way, I like to explore the same topic with different imagery and insights.  I've written a number of poems about my obsession with time (losing it, hoarding it, seeing it pass too quickly). I have a series of parenting poems, of poems adjusting to change, and several poems about a happy obsession—the spring cherry blossoms at the Tidal Basin.
ME: Picture books, poetry, or novels? Do you have a preference? Or if you can't choose, tell me what you like/don't like about each form.
JACQUELINE: I probably enjoy writing poetry the most. Sometimes my self-indulgent reward for finishing a draft of something else is allowing myself to spend the whole day working on a poem or revising existing ones. It can take weeks to write a poem. So most of the time, I write poetry in my head on walks, when I'm driving the car, doing the dishes, taking a shower, etc. Thinking about the lines of a poem often relaxes me into sleep.
 ME: What have your picture books taught you about novel writing and poetry?
JACQUELINE: Picture books have taught me to think more visually. I often pull up a picture now on Google images to help me describe something better.
ME: What has your novel writing taught you about your poetry and picture books?
JACQUELINE: Novel writing affords the opportunity to delve deeper into a character and use more description. It's quite different from writing poetry or picture books. When I write a picture book, I usually have a pretty good idea of what I want the ending to be. When I write a novel, I am not so sure where the characters are going. I often want to keep writing because I am interested in how the story will end, just like when I read a book.
ME: You can probably guess the next question: what has poetry taught you about your other forms?
JACQUELINE: Economy of language is everything. Don't say it in five words if three succinct words will do. While I often repeat myself nervously in conversation (a trait I am always unsuccessfully trying to control), I go over and over my poems to eliminate any unnecessary words. I do the same with my picture books. Writing poetry is the best exercise to prepare a writer for picture books. I love the thrill of saying the very same thing, only more compactly, in heightened language.
ME: Is there a genre of literature you'd like to write that you haven't tackled yet?
JACQUELINE: I love to read historical fiction but I am not sure I would have the confidence to do all the research necessary unless it was an era like the 1960's in which I personally experienced.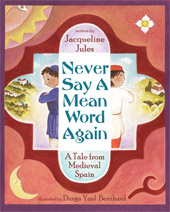 Thanks, Jackie! You can visit Jackie at her web site at jacquelinejules.com. Her upcoming books, all due out in 2014, include Freddie Ramos Stomps the Snow, an early chapter book, Field Trip to the Museum, a poetry chapbook, and Never Say a Mean Word Again, a picture book based on a medieval legend. That's a hat trick!