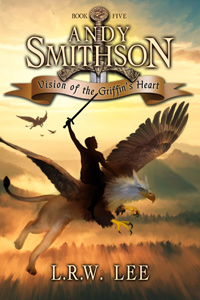 Writing today to tell you about the release of LRW Lee's fifth book in her Andy Smithson series. This one is called Vision of the Griffin's Heart, and it's out today.
The book is about Andy Smithson, who was chosen to break a 500-year-old curse that's plaguing the land of Oomaldee. To break it, he must collect a long list of magical ingredients, and this time, he's in search of a griffin to ask for a talon. But the griffins, whose treasure has been poached by humans for years, aren't exactly going to be predisposed to give it.
Enter the evil Abaddon and a plan to conquer the land, and you've got battles and challenges galore.
LRW Lee is a huge fan of writing fantasy and of reading it — from CS Lewis to JRR Tolkien to JK Rowling. (Perhaps this is why she goes by initials?) She lives in Austin, Texas, where she writes, blogs, and has her own youtube channel. You can learn more about here by visiting her website.