Wednesday was World Read Aloud Day, one of my favorite days of the year. It's a reminder that no one is too old or too young to listen to a story. Not me. Not my husband. Not my eye-rolling teens. People may take the day as a reminder to read to a partner or to a child who seems, on the outside, past the snuggling stage. They may read to a parent who has forgotten certain aspects of daily living, but who still understands the power of a story. (My favorite article related to this subject is Sally Jenkins' essay in the Washington Post about reading to basketball coach Pat Summitt. The article also involves Mary Karr and Phil Jackson, and it is so worth a read if you love basketball or Mary Karr or someone who can't take off and fly anymore, due to oppressive fog.) It may mean children reading to animals, stuffed or real. (Thanks to Lisa for sending me this story about kids reading to dogs to get them over shyness and ready for adoption.)
Schools celebrate World Read Aloud Day by bringing in authors or mystery readers. This week I visited classrooms in Maryland, Tennessee, Texas, Massachusetts and North Carolina via Skype (which is key, as I don't always travel well by car). The only technological glitches were the fan in my computer, which started whirring at one point and made me feel like I had to shout to the kids in Maryland, and one of my cats, who decided he wasn't getting enough attention.
The appearance of a cat during a Skype visit isn't quite akin to the appearance an Obama dog during a visit to the White House, but kids love it when a tail or a pair of pointy ears suddenly appears on the screen. In part, it's because my cats are pretty darn cute. But the cats also remind kids that they are talking to a real person. She has cats! She writes! She has a messy dining room! (Yes, I show them that, too.) Which I hope will lead them to realize that one day they, too, can write in a messy dining room with cats.
Anyway, during one visit (hello, Nashville!) my cat knocked over my glass of water, jumped on top of my hutch, and opened a cabinet and started pulling out the contents, which crashed down, one by one. I snapped a picture while he was still going through the cabinet: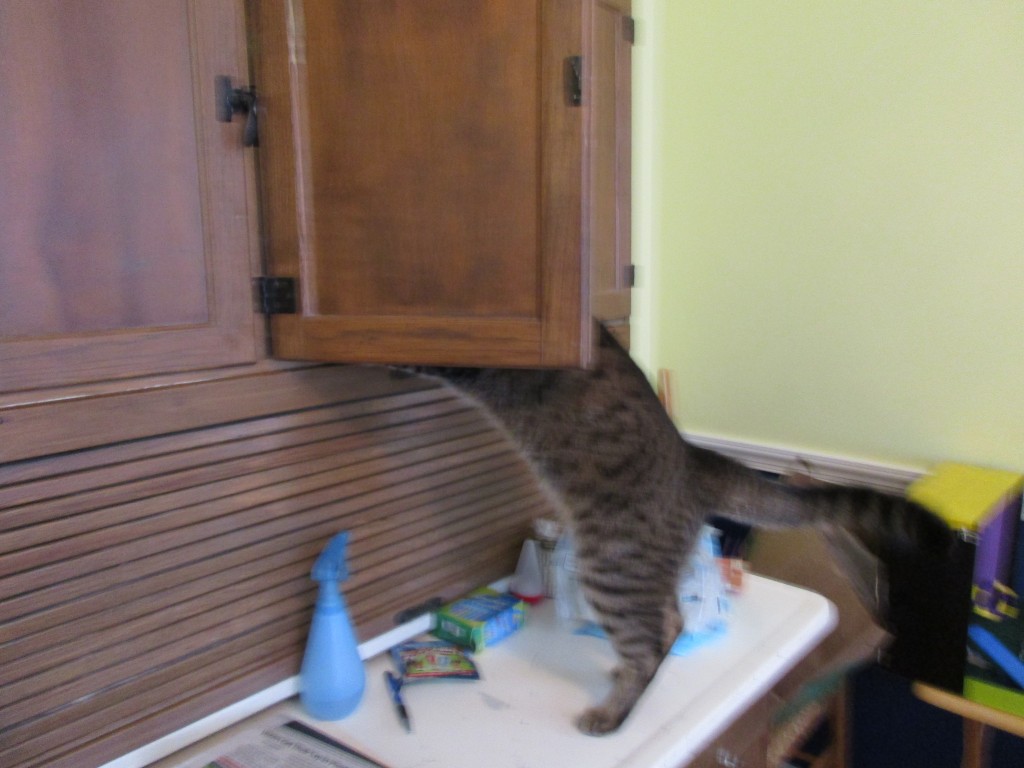 Here are a couple of other photos from Wednesday, courtesy of the amazing teachers and librarians who invited me in. (If you look around the internet and use the hashtag #WRAD16, you will see many similar photos of giant author heads and the backs of children. I think we all look like Oz.)
Every classroom I visited this year was different. I read and talked and when my kids came home from school, I read some more. The cats listened, too.
Here's hoping that your read-aloud day turns into a week or a year or a lifetime.
Many thanks to Kate Messner, who provided a match-making service for teachers and authors on her blog this year. And thanks to all of the teacher and librarians, for all they do every day. You can learn more about World Read Aloud Day on the official web site.