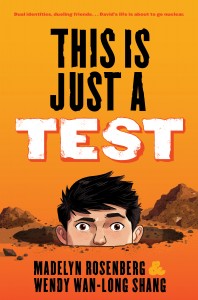 THIS IS JUST A TEST, written by yours truly and Wendy Wan-Long Shang, goes out into the world on June 27. We're celebrating with a launch party at One More Page Books, and by hosting a little giveaway.
How to enter: The book is set during the 1980s, when the two of us grew up, so we thought we'd show you our best 80s selves (below) and ask to see yours. Just tweet us a photo of your best 80s self and use the hashtag #TIJAT. Tag @wendyshang when you do. For Facebook folks, look for Wendy's post about the contest (or mine) and put a photo of your 80s self in the comments. If you weren't around in the 80s, dress up your current self in your best 80s garb and send it along! We're enclosing photos of us below (Madelyn, trying to be Molly Ringwald, Wendy, all prepped out and sporting a forensics trophy.)
That's it! We'll draw a name from the people who enter and that person will win our prize pack of a copy of the book, one of Madelyn's lucky charms (of a cassette tape), and, Holy Shoulder Pads! A book of paper dolls called Great Fashion Designs of the Eighties.
Visit Scholastic to learn more about the book or check out this review in School Library Journal.
Save
Save
Save
Save