It's been a while since I posted, so I thought I'd take a moment and pound out a few August updates:
THIS IS JUST A TEST, my middle grade novel with Wendy Shang, is now out in the world. We had a great launch in June at One More Page Books. (Order through them if you'd like a copy signed by both of us. They're located halfway between us!) One of the best things about the evening, besides seeing so many friends in one place, was getting to meet Chris Danger, the cover artist, who'd recently moved to our area. Here's a photo of the three of us together: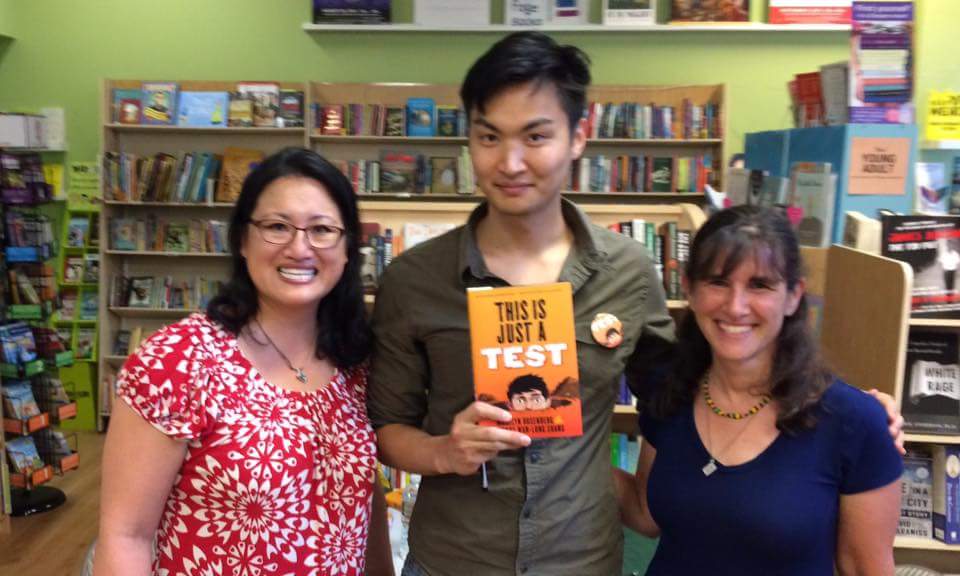 In other book news:
-Wendy and I will be speaking at the National Book Festival at the Library of Congress over Labor Day weekend. We're spending the next few days working on our talk, and figuring out who we want to go hear ourselves.
– Wendy and I will also be on a panel together at the VAASL (Virginia Association of School Librarians) conference in October. The panel is moderated by Meg Medina, and features Virginia author Lamar Giles and Tennessee author Ruta Septys. We love all three of these authors and we're excited to spend the morning with them.
-When we were at Swanson Middle School in June, they interviewed us about the Swanson Writers Project, a school-wide effort to link authors with students. Here's a link to a video about the program, which is the closest we've come to the Today show thus far: https://www.apsva.us/post/swansons-writers-project/
-Wendy and I are going to be on a panel with some fabulous friends at East City Book Shop in D.C. on Sept. 9 at 3 p.m. More details when we have them. (I know which friends Cecelia was asking; I just don't know who is confirmed.)
-I'm going to be moderating a panel at One More Page on Sept. 23 at 3 p.m. featuring Tracey Baptiste, Caroline Carlson, Jessica Lawson and Tara Dairman.
For some reason, summer hasn't felt like summer so hoping to fill the rest of this month with putt putt, lemonade, and homemade ice pops. Hoping you'll do the same.
And this isn't book-related, but don't forget about the eclipse on August 21st!
XO
Madelyn
Save
Save