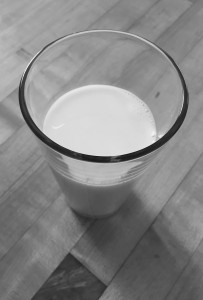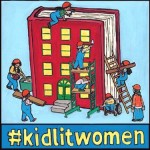 In Funny Girl, a collection of middle-grade stories by funny, female authors, there is a lot of talk indentifying humor as a super power. As someone who dreams of making milk come out of readers' noses*, I couldn't agree more. Many women have already embraced this power, as editor Betsy Bird knew when she contacted 25 women for the anthology in the first place.
But women with super powers are often overlooked (see: Wonder Woman's stint as JSA secretary. Or practically any woman in politics).  We see recommendations for funny books with nary a woman's name on the list. Heck, we see recommendations with lists that are 42 percent Jeff Kinney. Last week, as an experiment, I tried a simple Google search for  "funny kids books." You can try it, too. (Granted, Google isn't a respected librarian, but the algorithms create a fair representation of what I've encountered elsewhere.) For me, the resulting list was 46 titles, 24 percent by female authors. Authors of color — of any gender — were utterly lacking. Yet their stories are out there and taking notice of that is important.
"Humor is the grease that gets us through life," the very funny Wendy Shang told the very funny Marjorie Ingall recently, during a serious moment. We need humor and the laughter that accompanies it. Even the Mayo Clinic says so. Which is why I wanted to use this space, during March, when we're highlighting contributions of women, to lift up some funny female writers with a focus on middle grade and to give them a place at the table, a place on a list. Women are funny. Including them in your recommendations sends a message to the next generation of would-be female authors that they can be funny, too. They can be anything. And when women aren't included? That sends a message, too.
Crystal Allen: Molly Burnham introduced me to this author after Crystal Allen won the Sid Fleischman Humor Award from SCBWI — the first African-American woman to do so. I checked out the Magnificent Mya Tibbs series and laughed straight away. Allen's characters include Fish, Mya Papaya, Nugget, and Mean Connie Tate. Says Mya about Mean Connie: "She's wearing an apron with globs of red and blue stains all over it. I bet it's blood and guts from eating a first grader."
Cece Bell is one of the funniest people I know in real life, so it makes sense that she would be funny in writing-and-drawing life, too. Shoutouts to El Deafo, Bee-Wigged and I Yam a Donkey. I recently got the sneakiest peek at an easy reader Bell has coming out in 2019. Kiddos learning to read in 2019: You are some lucky ducks. A sample from the middle-grade El Deafo, when Bell narrates the benefits of her phonic ear: Best — or worst — of all, I can even hear Mrs. Lufton when she USES THE BATHROOM.
Squeak. Zzzzip. Tinkle Tinkle Tinkle Tinkle. "Ah… what a relief!"
(Here's another page with more tinkling. Copyright Cece Bell.)
Molly Burnham: Burnham also received a Sid Fleischman humor award back when she only had one book out, which shows the committee knew there was more funny to come. Now three books into her Teddy Mars series, she has other stories in the works. A bit of dialogue from Teddy Mars, whose little brother sleeps in the litter box (aka "cat box") and whose family is like a tongue, which is Teddy Mars for "gross."
"I was breaking a world record," I say, wiping my head with a towel.
"With eggs?"
"With the most eggs cracked on the head."
"How could that possibly be a good idea?"
Kate DiCamillo: Kate DiCamillo's Mercy Watson books (for younger readers) have garnered  mention on a few what's-funny lists, along with Flora and Ulysses, the unicorn of a humorous book because it also earned a Newbery. When you have a super hero origin story in which a squirrel develops powers after being run over by a vacuum cleaner, you are in business. Sample situation:
"The squirrel," said Flora.
"The vacuum cleaner," said Mrs. Tickham.
Together they stared at the Ulysses 2000X, and at the squirrel who was holding it over his head with one paw.
Firoozeh Dumas: If I had written a book on humor writing that contained a section called Beyond Fart Jokes: Next Level Humor, I'd use that chapter to dissect It Ain't So Awful Falafel, Dumas' book about an Iranian family adjusting to life in America. The text has lines that make me laugh and tear up at the same time — laugh because they're funny; tear up for the raw truth beneath them.
Here are some lines from the beginning, when Zomorod studies the condominium rule book in her new home. "There's even a drawing of the right and wrong way to put out the garbage. The wrong way looks like our trash in Compton."
Or when Zomorod dreams of owning a bean bag chair. "I imagine inviting a friend over. The minute she sees the beanbag chair, she knows that even if my parents speak a different language and I do not have a pet and we have no snack foods, I am still cool."
Barbara Park: Something old: I'm throwing in the late Barbara Park's Junie B. Jones chapter books because for me, a person's feelings about Junie B are almost as much of a litmus test as a person's feelings about Harry Potter. (If you don't like them you are a pile of stewie pewie tomatoes, that's what.)
Celia C. Perez: Something new: One of the things I love about The First Rule of Punk, which hits my humorous-school-based-story sweet spot, is the dialogue. Here is a simple exchange between Malú and Joe, who met when Malú ended up seeing the guidance counselor over a wardrobe malfunction of her own devising. Now they are meeting for the second time.
Setting: A coffee shop, where Joe is failing to make the foam in a latte look like a tulip. 
Joe: "You had the raccoon eyes."
"They weren't raccoon eyes," I said with a frown. "They were punk eyes, duh."
Rita Williams Garcia: The One-Crazy Summer series has voice, voice, voice. Here's a bit of dialogue from a chapter in P.S. Be Eleven where Big Ma thinks Delphine and her sisters have seen quite enough of the Jackson 5 on TV, even though they are on there for the very first time: "You seen 'em. Now if those boys have any kind of mother and father, they'll snatch those children off the stage and get them home to bed."
Lisa Yee: Millicent Min, Girl Genius is funny every time I read it. It's the tone in lines like this, when Millie is in the library tutoring Stanford, who is describing what it was like to eat a worm. "Before he could finish his tale of culinary curiosity, I got up and did a slow lap around the periodicals." I recently picked up Yee's Wonder Woman: Super Hero High, where WW is not a secretary (and not just because she's still in high school). "Wonder Woman, that one's yours," Barbara said, taking a slip of paper from her clipboard. "Flyers always get the top lockers."
More?
How about Sarah Albee (POOP HAPPENED: A History of the World from the Bottom Up, POISON: Deadly Deeds, Perilous Professions, and Murderous Medicines) Mary Amato (Riot Brothers) Caroline Carlson (The World's Greatest Detective)  Roshani Chokshi (Aru Shah and the End of Time) Jenni Holm (Baby Mouse et al) Amy Ignatow (The Popularity Papers) Dana Alison Levy (The Misadventures of the Family Fletcher) Lenore Look (Alvin Ho et al.)  The Entire Lumberjanes Crew (The Lumberjanes) Erica Perl (The Capybara Conspiracy et al) Olugbemesola Rhuday-Perkovich (8th Grade Super Zero) Kara LaReau (Bland Sisters/Infamous Ratsos) Rachel Renee Russel (Dork Diaries) Arigon Starr (Super Indian) or Raina Telgemeier (everything)?
The danger of starting a post like this is in leaving so many funny women out, which means it's your turn. In the comments, please add more funny women and the age group they write for. (I wrote this before reading Dill Werner's illuminating piece on how to be more gender inclusive. If you have a favorite funny under-represented author who would expand this list in a gender-inclusive way, please mention them.) I'll add the names, and when we're done, we'll have another resource for parents, guardians, librarians, panel coordinators and — most importantly — for kids.
So tell me: Who makes you laugh?
We're celebrating Women's History month with 31 days of posts focused on improving the climate for social and gender equality in the children's and teens' literature community. Join in the conversation on Facebook https://www.facebook.com/kidlitwomen or Twitter #kidlitwomen. Thanks to Grace Lin and Karen Blumenthal for getting things started, and to all posters for opening eyes and minds.
Further reading:
This post from Jane Kurtz as part of #kidlitwomen month, with a focus on picture books.
Joyce Wan's Pinterest page of female illustrators is a great resource that includes loads of funny.
Marcie Colleen and Audrey Vernick talk funny (and about funny)  in this round-table discussion with their literary agents.
This post from Betsy Bird the week Funny Girl came out.
And this post, which offers suggestions for adult lit, mainly. It's not all women but I'm including it because it started with a woman (Maria Semple) and one of the threads includes YA by Goldy Moldavsky and Anna Breslaw.
*I really have dreamed of making milk come out of readers' noses. I once wrote a book (with Mary Crockett) for which I studied dream interpretation, so I looked up the milk thing right away. I found several entries on the meaning of milk  (I'm doing something that will make me stronger! I am innocent and pure! And if I'd dreamed I was bathing in milk, it would have meant I was financially comfortable.) No entries for milk spewing from nostrils, however, so I will just have to take it at face value.
(If you are still reading: thank you. This post was loooooonnnnnnnnnngggggg.)