They do mash-ups on Glee rather successfully so I figured I'd do one here, especially since I've started three posts in the last week and haven't finished one.
I pulled out my big black coat this week. When I wore it our first year in Boston, my friend Howard dubbed me: Puff Maddie.
I haven't worn said coat since last winter so figured I'd document what was in the pockets:

What's in your pockets??
***
Holiday Guilt: I hate feeling strapped this time of year and wishing I had more $ to give to the people who help us all year long. I always send cash to the guy who delivers the paper, but most everyone else is getting baked goods. Even though my molasses cookies are pretty tasty, I always feel like the recipients are looking at me thinking: "$20 would have been a lot nicer. Or at least a Starbucks card." So the extra change I found in my coat pocket was a good thing. I always keep a bunch of quarters in my pocket in December. At least that way I won't feel guilty when I pass the Salvation Army Bell Ringers.
***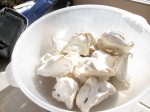 Along with molasses cookies, I made some chocolate pepper cookies that my friend Sarah told me about, and forgotten cookies, which we usually have for Passover because they're flour-free. My kids liked those best of all. I always forget that they actually LIKE them, because so much of what we eat on Passover we eat because we're not allowed to have anything else.
***
Even though I don't actually celebrate Christmas, I continue to be a sucker for holiday movies, the good ones (The Bishop's Wife, 1947) and the bad ones, in particular, bad ones starring former cast members of 90210.
I was devastated that I can't find Smoky Mountain Christmas with Dolly Parton and Lee Majors this year.
But I did find: A Carol Christmas, with Tori Spelling, William Shatner and Gary Coleman.
Secret Santa, with Jennie Garth.
Growing the Big One with Shannen Doherty (note, this is actually a Halloween movie, brought to my attention by my friend Heidi, and is nearly EXACTLY THE SAME as Secret Santa with Jennie Garth.)
I am skipping The Christmas Hope with Ian Ziering (sorry Ian) because it sounded too depressing.
***
Some writing and editing setbacks lately that are completely out of my control. My friend Annie, who is very much like that Annie, in that she always sees the positive side of things (though she doesn't sing about them), says: You can only do what you can do. So I am going to make a running start into the new year doing what I can do. I hope you are, too!